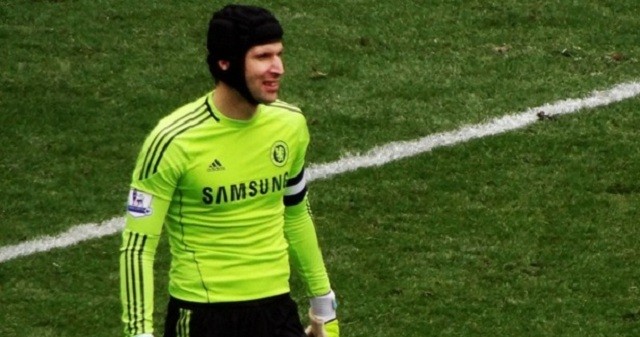 Speculation is rampant regarding the future of Arsenal's goalkeeping position.
Wojciech Szczesny has been linked with a move away from the club since being dropped as first choice keeper in January. Arsenal have been linked with a move for Chelsea 's second choice keeper, Petr Cech, since last August and speculation has been picking up quickly the past month.
Now, a few new twists have been added to the story line. This morning, news outlets in Turkey reported that Fenerbahce plan on making a €5.5 million bid for David Ospina, who is currently representing Columbia in the Copa America.
Additionally, Arsenal goalkeeping coach, Tony Roberts, is leaving the club to join Swansea, opening the door for Chelsea goalkeeping coach, Christopher Lollichon, to join the Arsenal along with Cech. Lollichon and Cech enjoy an excellent professional and personal relationship, having worked together since the Czech international's time at Rennes.
This is a lot of information to sort out and it does seem like Arsenal plan a reshuffle in the goalkeeping department. Here is a run down of a few scenarios that might play out this summer, starting with the least likely to the most likely.
Cech Stays With Chelsea, A Different Keeper Comes In, Szczesny or Ospina Leaves
This is the least likely scenario because Arsenal only has an eye for Cech. Iker Casillas has been linked with Arsenal, as has Hugo Lloris but neither seem to be wanted by the club. Casillas would not be an upgrade anymore and Lloris transferring from Tottenham to Arsenal is unlikely to happen for obvious reasons.
Cech Comes In, Szczesny Leaves, Ospina Stays
About a month ago this seemed like the most likely scenario. Szczesny only played in FA Cup matches and there were reports circulating that claimed he and Arsene Wenger had fallen out. Ospina played well this season but wasn't overly convincing, thus an upgrade in the form of Cech makes sense.
Szczesny is not going to be happy playing second fiddle for another season. He is young, talented, and ambitious and will want to be starting for a big club. Cech would likely block his way to the starting lineup at Arsenal for the next four years.
It's unlikely that Szczesny would be able to secure a move to a big club and start immediately, but he could move to team that is on the upswing. Wolfsburg would be a good example of a club that might be of interest to Szczesny.
Ospina proved this season that he is more than an adequate back up goalkeeper. Arsenal would have good depth with Cech and Ospina in the fold, and Emiliano Martinez as the third choice option.
Cech Does Not Come In, Szczesny and Ospina Compete for the Starting Spot
This is a very possible scenario. It doesn't seem that Arsenal is interested in signing just any keeper. They specifically want Cech. If Wenger cannot come to an agreement with the Chelsea hierarchy for Cech, it's likely that Arsenal retain the keepers they have and hope for an improvement from both Szczesny and Ospina.
Arsenal have been linked with other keepers such as Lloris and Casillas but, as mentioned above, a transfer for either is ill advised and implausible.
Lloris' current employers, Tottenham, would be hard pressed to sanction a deal to Arsenal and it's almost impossible to imagine a scenario where the two clubs come together to agree a fee over one of Tottenham's best players.
Cech Comes In, Ospina Leaves, Szczesny Stays
This scenario is a win-win for Arsenal. They get the world-class keeper they have been looking for since David Seaman and possibly Jens Lehmann left the club while their keeper of the future waits in the ranks, learning from one of the best in the world.
Cech is an upgrade over Szczesny right now and would immediately make Arsenal better. Having Cech start over Szczesny would push both goalkeepers to play to the best of their abilities and, most importantly, would allow Szczesny to learn from a world-class player both on the field and off the field. Szczesny still has the potential to become a world-class keeper, something he showed during the 2013-2014 season when he shared the Golden Glove award with Cech.
Wenger is not afraid to drop his starting keeper if either player's form drops. In the past he has dropped Lehmann, Lukasz Fabianski, Manuel Almunia, and most recently Szczesny. Fierce competition between Szczesny and Cech would keep both players on their toes and give Wenger something to think about.
Keeping Szczesny over Ospina makes more sense for Arsenal's future. Szczesny has been with Arsenal since he was sixteen-years old. He is a homegrown player and thus valuable to have in the squad for registration purposes. Szczesny understands what it means to play for Arsenal because he has grown up with the club and playing for Arsenal is more important to him than playing for another club. Having players like that in your squad is both valuable and rare.
Szczesny has shown improved maturity by saying all the right things the past month. In the immediate aftermath of the FA Cup Final, Szczesny declared his intention and desire to stay with Arsenal long term. He also distanced himself from his father who has been critical of both the squad and Wenger in the past. It would be strange for Arsenal to move on from a player who has so much potential but has yet to hit his peak.
Ospina has only been with the club one season and selling him would be harsh on the player. However, Arsenal is in the business of winning. Placating to Ospina and treating him fairly despite the needs of the club will not win trophies.
If The Gunners can upgrade the goalkeeping position and retain depth, then they should do so, even if it means selling Ospina. The Columbian won't feel hard done in the long run, and the fans won't mind, especially if Cech comes in and Szczesny develops into a world-class player.
https://www.youtube.com/watch?v=GZ-UTfxFuK0