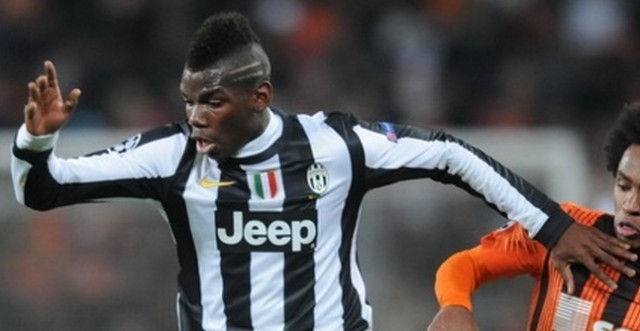 According to The Mirror and ESPNFC.com, the race for star midfielder Paul Pogba has thinned down to 4 clubs.
European champions Barcelona are in the mix, as well as rivals Real Madrid, plus two of the richest clubs in the world, in Paris Saint Germain and Manchester City.
Juventus midfielder, Paul Pogba, had a terrific season for the Serie A champions and is one of the biggest transfer targets this summer.
Pogba, already a household name, is still only 22 years of age and is intriguing the biggest clubs in world football to splash the cash for his services.
Pogba was on Manchester United before leaving on a free transfer when he was not getting playing time under Sir Alex Ferguson. It may be hard for City boss, Manuel Pellegrini to lure Pogba back to the city of Manchester.
Manchester City are looking to improve upon a disappointing campaign and are looking to bolster the squad. Pogba is one of the best young players in the world and would be a huge signing for City.
There were reports that City were going to overhaul the squad and sell the likes of Yaya Toure, Samir Nasri, Jesus Navas, among others, but those talks have seemed to dwindle. I thin Paul Pogba would fit perfectly in Manchester City's team, but may cost them in the region of 80 million pounds.
If City are going to sign him, they are definitely going to need to sell or risk breaching Financial Fair Play, although the punishments are supposed to be reduced.
Manchester City need to make some changes and add some English talent for the homegrown quota. City already lost James Milner on a free transfer to Liverpool, and according to the Mail, Aston Villa midfielder, Fabian Delph is a potential replacement if they lose out on Paul Pogba.
Real Madrid, in my opinion, do not need Paul Pogba. Real need more of a defensive midfield type, as they never really replaced the loss of Xabi Alonso and I think it hurt them in the latter stages of the Champions League.
Barcelona could use Paul Pogba and play him alongside Busquets and Iniesta or Rakitic in that midfield three. Pogba is such a top talent that he could fit into any side in the world.
PSG could use Pogba as well, as he could play in that attacking midfield role behind Ibrahimovic. He could also play deeper if need be maybe alongside Verrati or play in a midfield three role as well.
There is no doubt that Paul Pogba is one of the best players in the world already and would be a great signing for any club. I think Pogba is needed most by Manchester City and I would love to see him playing in the EPL next season. All the top clubs are in for him and the race is on to see who can sign him.
https://www.youtube.com/watch?v=gMxPphrgeu8