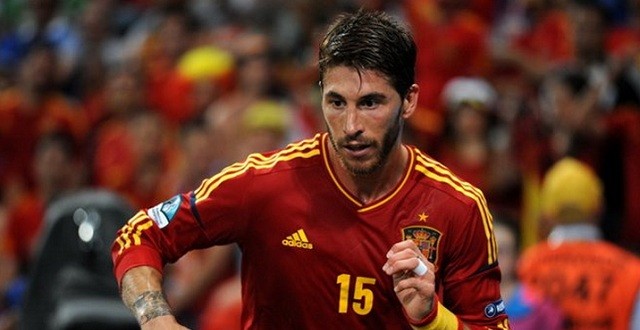 According to many sources including Bleacher Report and The Metro in England, Chelsea are in the running to sign Sergio Ramos from Real Madrid.
Manchester United were reported to have been interested first for the centerback but now may lose out to the Champions in the race for a world class defender.
Ramos' contract expires in two years time and United were reportedly interested in making a 20 million pound offer for the Spanish international.
Jose Mourinho worked with the 29 year-old centerback at the Bernabeu and seems to want to improve the backline as they prepare to make a deeper run at Champions League glory.
The Metro was also reporting that Manchester City are in the running to sign Ramos, as they have been looking for a few years now to find a centerback partner for captain Vincent Kompany.
If Chelsea are able to snatch Ramos for a reported 50 million pound transfer fee, I think it would be a wonderful signing for the Prmeier League champions. Ramos brings a ton of experience as well as leadership and would improve a defense that is already one of the strongest in Europe.
Sergio Ramos brings some versatility as well, which Mourinho seems to like in players. Ramos obviously can play as a central defender but he can also play on the right hand side as a right back, a position he played more frequently earlier in his career.
Ramos is a smart defender who reads the game exceptionally well. For me, he is one of the best defenders in the world.
If anyone wants to be critical of his game, he does occasionally make the rash challenge that gets him and his team in trouble but I think he has gotten a lot better at reading the game and is right up there with Chiellini from Juventus as the best.
If he came to Chelsea, he would go straight into the starting eleven. John Terry had arguably his best ever season at the age of 34, but surely his days are numbered. I think Terry has one more good season left in him, and Ramos could be the perfect replacement for the Chelsea legend.
Chelsea have some serious depth in the backline and Ramos would just make Chelsea that much better. Ramos could play at right back and give Ivanovic a breather for some matches, play centrally with Terry or Cahill or even Zouma, or sit in front of the back four in a Nemanja Matic defensive midfield role.
Ramos is a world class defender who brings experience and a ton of versatility that would make Chelsea or any club who signed him, better off. I do not see Real Madrid selling Ramos this summer, but if contract talks continue to be put off, this could realistically happen next summer as Chelsea look to replace John Terry.
https://www.youtube.com/watch?v=RASlGOHdAlM