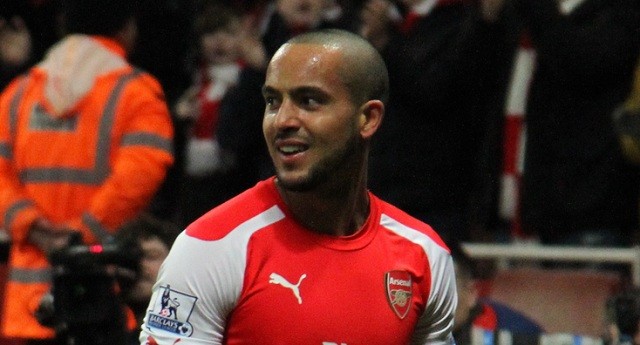 Theo Walcott's return from England duty has paved the way for Arsenal to step up their contract talks with the English international. According to The Telegraph, Arsenal is entering what they consider to be crunch time and want to get a deal done as soon as possible.
Confidence has been growing at the Emirates Stadium that an agreement will be reached. Walcott has been saying all the right things since Arsenal lifted the FA Cup in May and it is believed that there is mutual interest in getting a deal done.
Walcott currently has one year left on his £100,000 per-week deal that he signed in 2013. Walcott was looking to become one of Arsenal's top earners along with Mesut Özil and Alexis Sanchez who are earning £140,000 per week. It's unlikely that Arsenal will be willing to give Walcott that type of deal however they do believe that both parties can find a common middle ground.
Liverpool's Brendan Rodgers is a known admirer of Walcott with the Arsenal striker being touted as a replacement for the likely departing Raheem Sterling. Rodgers will be disappointed to learn that Walcott is likely to renew his contract although not overly surprised considering that speculation regarding a departure for Walcott never gained any kind of pace.
Theo Walcott endured a difficult season due to a serious knee injury suffered in 2014. Improved depth in the Arsenal squad didn't help Walcott's attempts to break back into the first team either.
Walcott made an impact at the end of the season when he played a large role in Arsenal's draw against Manchester United, when he scored a hat trick against West Brom in the last game of the domestic campaign, and in the FA Cup Final when he opened Arsenal's account in that match.
Both Arsene Wenger and Theo Walcott have heavily implied that the Englishman's future lies in the striker position. Walcott offers Arsenal a different type of striker than usual first choice striker, Olivier Giroud. Walcott may not have the aerial prowess of Giroud, but he makes up for that with his pace, movement, and finishing skills.
Prior to his injury, Walcott was Arsenal's best finisher and most prolific scorer. At the age of 26, Walcott is about to enter his prime and Arsenal will surely want to benefit from that.
It's easy to forget the kind of form that Walcott was experiencing before his knee injury. With a full offseason to compete against his teammates, Walcott will be looking for a better season than last.
https://www.youtube.com/watch?v=dm8UKzIT1AQ