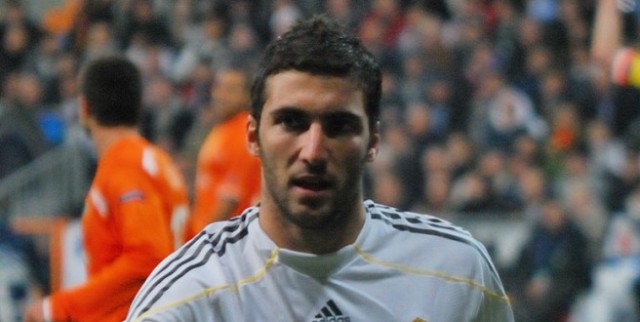 Gonzalo Higuain has been a target for many top clubs around the world ever since Napoli failed to qualify for Champions League next season. Now, a rumored spat over a girl between him and the Parma goalkeeper Antonio Mirante has emerged via Express, as the two apparently clashed on the after their match a few weeks ago. The Argentine striker is set to leave Serie A, with Arsenal and Manchester United keen on harboring his services.
Arsenal have been linked with Higuain for some time now, and Arsene Wenger would like to add the striker while his team is on the brink of challenging for titles. Former Napoli player Jose Alberti has said that he is, "90 percent sure he(Higuain) will go to Arsenal." He noted that Napoli missing Champions League leaves the player no choice but to leave.
An apparent agreement has been made between Arsenal and Higuain, with Alberti stating the deal could be a minimum of 3.6 million a year. This news is coming in the wake of another DailyStar report though, that the Argentine had agreed to a deal with Manchester United on a five year deal worth 96,000 a week.
The 27 year old scored 19 Serie A goals in 37 games, so he will be expected to replicate if not better those numbers while in England, be it at Arsenal or Manchester. He has plenty of quality experience during his time at Napoli and Real Madrid, so he should be able to immediately come in and make a big impact.
Arsene Wenger and Louis van Gaal both would warmly welcome the striker recruit, and the winner of the war for his services will surely benefit greatly. Both powerhouse teams are looking to add a striker of Higuain's quality, and with it hopefully a Championship.
https://www.youtube.com/watch?v=jlpAC1YY8Dc