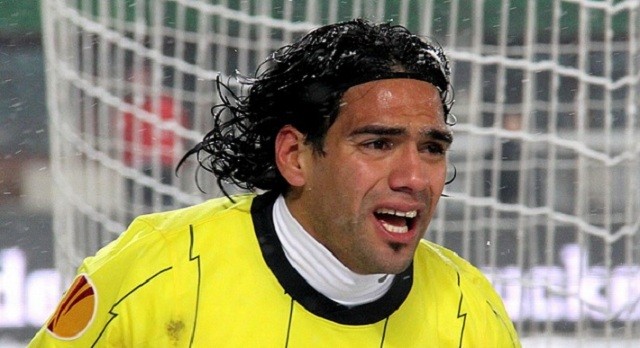 According to The Independent in England, Radamel Falcao could be set for Chelsea move after manager Jose Mourinho confirmed his interest in signing a striker.
Radamel Falcao played last season on loan for Manchester United in the English Premier League where he absolutely struggled to find any form. He was arguably the best striker in the world just three years ago but has not looked anywhere close to being the same since tearing his ACL over a year ago.
Chelsea are looking to strengthen their strike force as Didier Drogba is set to leave the club to go and find a place where he can play more regularly. The Blues have Diego Costa who had a great first season at the club, although he struggled to stay on the pitch as he was dealing with a nagging hamstring issue. Loic Remy looked okay when he was playing but Chelsea would love to have some serious depth up top as they look to defend their crown while improving upon a disappointing Champions League campaign.
Mourinho confirmed he is looking at Falcao but admitted that he is interested in others as well. Mourinho is confident that if he signs Falcao, he can bring back the form that made him a handful for the opposing defense.
After only scoring four goals for United last season, one would think Chelsea could sign Falcao for cheaper but the problem lies with the Colombian's wages. Falcao made a reported 346,000 pounds a week last season even though he spent a majority of the time sitting on the bench.
If Falcao is willing to take a significant pay cut on his wages, I could see him joining the Blues this summer. Falcao can still be a force to be reckoned with, as he still has solid movement that could fit in well with the likes of Hazard and Fabregas. Falcao is better in a formation where he is a lone striker and Chelsea could be a perfect fit for him to regain his form.
At Manchester United, Falcao did not get great delivery and was a main part for him not netting very consistently at all. But I think playing with a better midfield where he can make runs in behind and get service, will improve his game. And he would not have to deal with the pressure of being the main man as Chelsea still have Diego Costa to fire home goals.
I can see this transfer happening as Monaco may want to cash in on the striker as he has not looked the same as he did when he played for the likes of Atletico Madrid and Porto. If Chelsea and Falcao can work out the wages, I see Falcao as being a good signing for the defending champions.
Falcao may not be the same player he once was, but I think Chelsea can get him for a bargain transfer fee and he will be motivated to show his doubters wrong.
https://www.youtube.com/watch?v=xCmk96_Pfpg