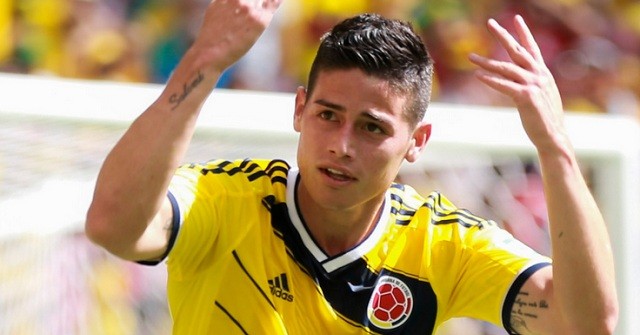 Go back 11 months and check the social commentary at the time. Once James David Rodríguez sealed his transfer to Real Madrid, Madrid and non-Madrid fans didn't know how to feel about the €80 million price tag. Some criticized that he was President Florentino Pérez's ticket to starting construction for his company in Colombia. Many saw that with Di María's departure, the club was downgrading to a player that very few people knew.
Until he played a wonderful World Cup, only those who followed the Primeira Liga, the Ligue 1 or the Europa League might have seen the 23-year-old play. While there was no right or wrong answer at the time, the least people could've done was wait until he played his first match for Real. Now, almost a year later, he just ended his first season with stats that not everyone can achieve at one of the world's most demanding teams.
46 games played, 17 goals and 17 assists. To put things into perspective, El Fideo scored 11 goals and assisted 25 times during his best season, and played 6 more matches. For a player that came here to sell jerseys and help build highways in Colombia, he finished off as one of the top performers of Los Blancos' disappointing term. These numbers are more impressive if we realize that he didn't play in his natural role.
Used to being the #10 and moving close to the strikers, he moved to the side of the midfield and was forced to have a box-to-box mentality. He proved that his body allows him to perform that task and still be influential in attack, becoming more of an all-around player than just an attacking midfielder. With Carlo Ancelotti's exit and Rafael Benítez's arrival, there will most likely be some changes in the team's formation and playing style.
It's too early to tell if James will be placed somewhere else on the pitch. However, there's reason to be excited about the future. The Cúcuta native brought incredible vision, solid set pieces, great free kicks and most notably incredible long-range shots. A simple look at highlights from all his goals and passes this year will leave you astounded. Because of this, Madridistas should look forward to the start of the 2015-16.
Despite this, there's a memory of Bale's sensational debut year, being crucial in the conquering of the La Décima and the Copa del Rey. During the summer, he looked better than ever and everyone thought his sophomore effort would be marvelous. Although his stats were close to his previous year, it wasn't what everyone hoped. Rodríguez and Bale aren't the same and just because the #11 declined a bit doesn't mean the other will follow suit. The future of the Real Madrid midfield is exciting nonetheless.
https://www.youtube.com/watch?v=mguh5_LTW8E