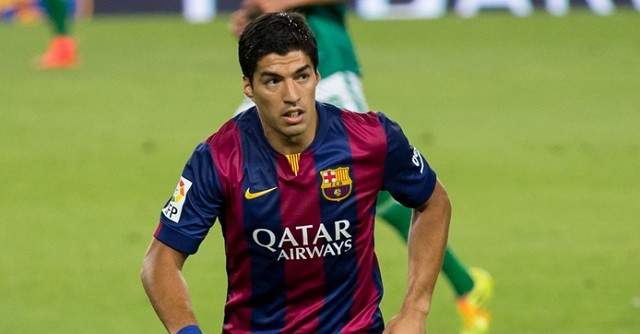 In just a few hours, Luis Suárez, will be suiting up to play in his first ever Champion's League final. After so much controversy surrounding the Uruguayan, from the biting incidents to the racial accusations, it is now the moment of truth.
Suárez has shown football fans this season, what his teammates (past and present) have been saying all along – just how selfless, incredibly talented, and professional a player Luis is. Are Suarez's troubles truly behind him after conducting himself so well with one game left to go – the most important?
Suarez had been signed covertly, during the summer transfer window, to FC Barcelona amidst his latest ban – handed down by FIFA for biting Italy's Giorgio Chiellini during the 2014 World Cup. He would begin his season nearly two months later than his teammates, having to adapt to a new league and finding his place in a team where instead of being the super-star forward, he would be one of three.
Though he has become known as a goal-maker, what has been most pleasing to watch throughout this season has been his assists and defending work. The Globe and Mail agreed, describing Suárez as "arguably the 'missing piece' Barcelona was looking for." He has scored 24 goals this season for Barça with 13 assists, helping set a record alongside Neymar & Messi scoring 120 goals between the trio.
While his latest adversary, Juventes Defender Giorgio Chiellini, is injured and will be watching from the sidelines today, Patrice Evra will be playing. As you may recall, Evra was the player who accused Suárez in 2011 of using racially abusive language towards him as recounted by The National.
Suárez has taken the jokes (even from his own teammates) and FIFA punishment with his head down and focused on his season. Perhaps realizing while his talent has kept him afloat thus far, if it happens again his entire career could be in jeopardy.
Barça fans have embraced him completely, giving him a warm welcome to Camp Nou in his debut last fall. He also seems to be feeling at home with Barça from the moment he set foot in the dressing room. Maybe being surrounded by players from similar cultural backgrounds, and a stable environment has been the key for his good behavior all season? What we do know is that Suárez is facing the culmination of a life-long dream- playing in the biggest event in European football.
Barça head into the Champions League final in Berlin as the heavy favorites, with their now record-breaking trio up front, backed by a fierce cohesive team. On the opposing side, Juventes is dealing with a few injuries and while also up for a treble this season, have an uphill battle to secure the championship.
If Barça should triumph and win the coveted treble, what a chapter ending this would be for Suárez. In the meantime, fans and critics alike will be holding their breath to see if this fantastic footballer has finally overcome his demons and thus returns to the praise and recognition he so rightly deserves.