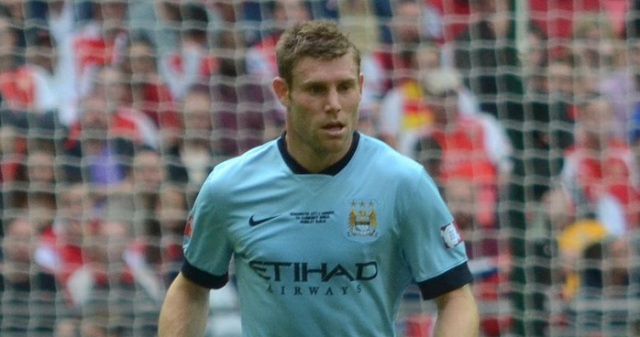 England international James Milner, has agreed to join Liverpool on a free transfer after his contract with Manchester City expired.
Milner leaving Manchester City seemed inevitable after he was in and out of the side and struggled to keep hold of a starting eleven place in Manuel Pellegrini's side.
James Milner leaving City for Liverpool will not go down as a flashy signing for the Reds and Brendan Rodgers; however, Milner will fit in perfectly with them. Milner typically likes to play in a wider midfield role, usually on the right hand side and played there most of his time at the Etihad in City blue.
Milner's versatility will be utilized next season as he can play all over the field, something Rodgers seems to love in players. I am not a huge fan of Rodgers and think he should have been sacked after this disappointing 2014-15 season where he failed to qualify for Champions League. One thing Rodgers loves to do is is tinker with his lineup and loves to shift players around, like he did last season. One game Raheem Sterling was playing in a central striker role and the next he was playing as a wingback in a back three.
Besides playing as a right-sided midfielder, Milner can also play as a right-sided wingback if Rodgers wants to resort back to a back three. Milner can take players on in a wide area and get down the flank and cross in balls, while also doing the defensive duties.
And if that is not enough versatility, Milner can also go and play centrally as a holding midfielder, although I feel that is not his best position. Milner works harder than any player and can make defensive tackles that could potentially see him slot in the position that will be vacated by the absence of Liverpool legend, Steven Gerrard.
This signing will not go down as a world class signing or make the headlines but I think it is a good signing for Liverpool and Rodgers. Milner will bring a ton of versatility while working harder than any other footballer. 
Liverpool are going to need to splash the cash again this summer and make a lot of signings if they want to have any chance at competing for the top four next season. And the problem last summer, was that Rodgers used the money from the sale of Luis Suarez and bought a bunch of average players.
Milner will be a good player and a total professional at Anfield but it is going to take more than a free transfer signing of James Milner to bring Liverpool back to the upper echelon of England.
https://www.youtube.com/watch?v=-InCUbXJDWU