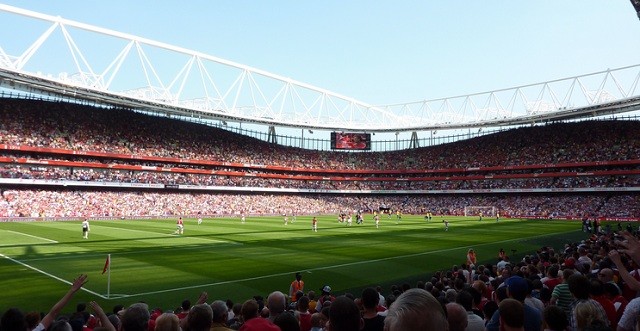 Arsenal concluded their season with a convincing FA Cup Final win over Aston Villa. Here is a review of Arsenal's season.
Arsenal's cup performance was an improvement over last season. The 4-0 score line was an accurate reflection of The Gunner's dominance in this years final and indicated improvement from last year. Last season Arsenal had to come from behind to beat Hull City after falling behind 2-0 within ten minutes. They started poorly in that match and won in overtime in large part thanks to their superior technical skill.
This season, Arsenal started off strong, didn't let the occasion get to them, and dominated the match throughout. After the match they set their sights on better things, challenging for the league. Retaining the cup this season posed a larger challenge that winning it last year. The FA Cup signaled clear improvement.
In terms of Arsenal's Premier League performance, there was improvement. They finished with four points fewer than they did last year, however they finished a place higher this season. This would indicate improvement, although in terms of points accumulated there was no improvement. However to understand the difference between Arsenal this year compared to last year, you have to look at the individual results.
Arsenal performed better against the top 4 this year than they did last year. They beat Manchester City twice, once in the Community Shield and once away. Arsenal ran Liverpool ragged at the Emirates and almost pulled out a win at Anfield. They beat Manchester United at away in the FA Cup and drew another time away in the league. Chelsea was the only top 4 opponent that Arsenal failed to beat, however, they avoided a thrashing like they did last season. This is improvement compared to last season considering that Arsenal was thrashed away to Chelsea, Liverpool, and Manchester City.
The Champions League was the one disappointing aspect of Arsenal's season. They failed to get past the round of 16 again but did so to a weaker opponent. In improvement the Champions League next season is required.
When you look at Arsenal's season there are clear improvements in the results, in their mentality and the way the played. Arsenal played with more structure and discipline, bar their home performance against Monaco.
You have to look at Arsenal's season in two halves. The first half of the season was marred with injuries to key players and youngster such as Calum Chambers and squad players like Mathieu Flamini were played often. Once the World Cup hangover was lifted and players like Aaron Ramsey, Olivier Giroud, and Mesut Özil returned from injury, Arsenal were by far the second best team in England and inched closer to Chelsea.
This season was a good building block for next year, but Arsenal need to push on if they want to challenge for the title. Out of City, Liverpool, and Manchester United, Arsenal look to the closest to Chelsea.
Overall Grade for the season – B+
Goalkeepers – B-
Wojciech Szczesny was a disappointment. In fairness to him, the front four defenders who played the majority of the time with the Polish international in goal, consisted of Nacho Monreal at center back and a combination of Per Mertesacker or Chamber as the other center back and Mathieu Debuchy, Chambers, or Hector Bellerin at right back. Stability did not help Szczesny but he didn't help himself either with his attitude. His performance in the FA Cup Final was encouraging though.
David Ospina saved Arsenal's goalkeeping situation but seems like a short-term option. There were times where it was clear that his height is an obstacle. His distribution was very poor as well. He showed ability as a good shot stopper though, commanded his area decently, and brought stability in goal.
Disappointment – Wojciech Szczesny
Surprise – Wojciech Szczesny loosing his place.
Best Player – David Ospina by default.
Defense – B-

This was a season of two halves for the Arsenal's defenders. Debuchy and Laurent Koscielny missedlarge chunks of the early parts of the season and Mertesacker was clearly suffering from a World Cup hangover. Monreal had to play at center back and Arsenal was vulnerable.
During the second half of the season, Arsenal was well organized, energized and played with confidence and authority. Koscielny's return was vital to the turnaround and Mertesacker's performances improved with the return of his French compatriot rate.
Monreal looked like his time at center back give him a tenacious edge and he played some of the best football he has played with Arsenal. Bellerin improved immensely and is clearly a star for the future. Gabriel seems like an excellent purchase and played very well when called upon.
Disappointment – Mathieu Debuchy (very unlucky with his injuries).
Surprise – Hector Bellerin
Best Performance – Laurent Koscielny
Midfield – B+ 
Like defense, Arsenal's midfield struggled to regain form in the first half of the season. Mikel Arteta could not stay healthy, Ramsey played hurt for a while it seemed like, and Jack Wilshere wasn't playing to his ability.
Arsenal's midfield was a large reason for the complete turnaround experienced in January. The return of Özil, improved performances from Santi Cazorla in a deeper role, and the emergence of Francis Coquelin created fluidity, structure, balance, and discipline throughout the entire squad.
The emergence of Coquelin, Özil's full adaption to the Premier League, and Cazorla's improved performances pushed other players. Ramsey regained the form he showed last season after solving nagging muscular problems causing various injuries, and Wilshere showed why Wenger holds him in such high regard when the youngster returned from injury.
Competition will be fierce in midfield next season. Arsenal may boast the best midfield in the Premier League when everyone is healthy and sharp.
Disappointment – Mikel Arteta & Jack Wilshere (like Debuchy, unlucky with injuries).
Surprise – Francis Coquelin
Best Player – Santi Cazorla. He edges out Özil and Coquelin because he contributed for a larger junk of the season and displayed excellent defensive skills in addition to his attacking attributes. Özil was the most creative and Coquelin was possibly the most essential player.
Attack – A-
Alexis was an excellent signing and made a clear impact on the team. He carried Arsenal through the first half of the season and won games on his own. He was by far the signing of the Premier League season.
Danny Welbeck was productive in the absence of Giroud and proved to be a good signing. He fits in well with the way Arsenal play and his pace and power should benefit Özil once they play more often together.
Once Giroud returned, Welbeck played a more peripheral role in large part due to the Frenchman's excellent performances. Giroud showed he can lead a team up front during his fantastic scoring spree from January to the beginning of April.
Alex Oxlade-Chamberlain showed what a fantastic talent he is and put in some spectacular performances before he got injured. He needs to add scoring to his repertoire but that should come with experience.
Theo Walcott was disappointing but it's unfair to criticize him because of his yearlong layoff. His hat trick against West Brom was excellent as was his performance in the FA Cup Final. His future should lie at striker and will give Arsene Wenger something to think about when Walcott resigns.
Lukas Podolski and Yaya Sanogo were both disappointing and they left on loan. Podolski always looked likely to leave the club but Sanogo was supposed to make improvements this season. He did score his first goal for the club against Dortmund but couldn't make an impact on games quite like he did at times like last season. Podolski will leave this summer but Sanogo is likely to be given another chance.
Disappointment – Yaya Sanogo
Surprise – Giroud's goal scoring spree. He is a fantastic goal scorer but the run he went on was world class.
Best Player – Alexis