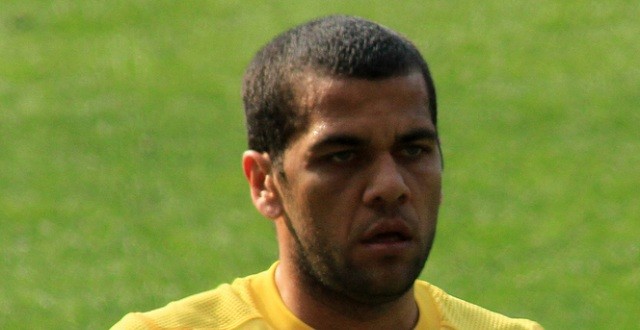 Dani Alves made it very clear on Monday that he is ready to play hardball; demanding respect and better pay from the Catalans. If Barça wants to retain him – a wise choice with their FIFA transfer ban in effect until January 2016 – looks like they will need to cough up more cash to do so. ­­
As players train during the last few days remaining of the 2014/2015 season, rumors are amok surrounding full-back Dani Alves allegedly rejecting yet another offer to keep him with the Catalans. The Brazilian has been with FC Barcelona since 2008, appearing more than 200 times. but claims a lack of respect from the club's management has forced the issue of his departure.
Alves current contract with FC Barcelona expires June 30th. He appeared before the press Monday afternoon to clear the air and set things straight. "I only want to defend myself from everything that has been said," he explained. "I'd like to stay at Barça, but not at any price. I'm not just talking about money; I'm talking about respect. What I've done for this club hasn't been done by anyone in my position. If I'm not respected, I will go somewhere else. I don't like to compare offers, but others give me more value that Barça."
Barcelona are enjoying a dream season, heading into their last two finals, up for yet another coveted treble for the club. It has been a record year and a successful one thus far for first-year manager, Luis Enriquez. Alves confirmed while his future at Camp Nou remains unclear, he is ready and focused for the upcoming games. "I'm just thinking about enjoying these last two finals…I want to give my best to the club, as long as I'm wearing this jersey, I will fight, like I have always done."
If Alves is being honest and truly wants to remain with Barça, it would be a wise move for the club to cough up some extra cash to keep the Brazilian. If he departed, Barça remains under a transfer ban until January 2016 and would not be able to replace Alves for some time. So far Alves has been linked with offers from Paris Saint-Germain, to Manchester United and Arsenal.
Meanwhile, Martin Montoya would be more than happy to take the spot if Alves leaves, but he too has been linked to a move elsewhere. The full-back has been itching for a starting spot all year, but has fallen short the few times Enriquez has given him a chance to show his potential. Bleacher Report agrees, citing reports that Montoya is currently being courted by Liverpool but is seemingly holding out to see the outcome with Alves.
Barça fans and the media will have to wait until after the Champions League Finale on June 6th. "Afterwards I'll tell you my final decision," Avles concluded, "as long as I'm under contract, I'm a Barcelona player. I don't want to say anymore about my future."