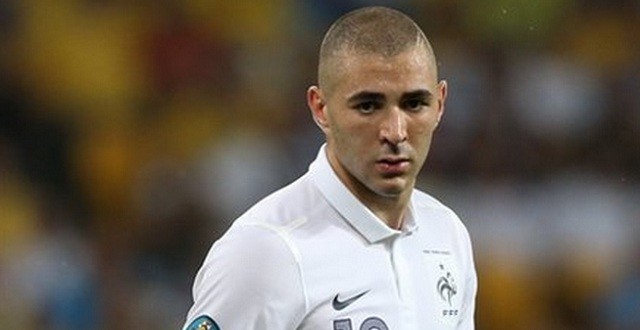 Karim Benzema, 27, has been identified as a possible summer target for Manchester United, although they will have to fend off interest from Arsenal, according to The Guardian.
United are looking to add a goal scoring threat to their ranks with Radamel Falcao returning to Monaco and rumors of an imminent departure for Robin van Persie persisting. That would leave only Wayne Rooney, James Wilson, and possibly Javier Hernandez, who is returning from a season long loan spell with Real Madrid, as the Manchester club's only strikers.
Arsenal on the other hand, are looking to add depth and alleviate pressure off of Olivier Giroud. The Frenchman is Arsenal's only true out-and-out striker, with Danny Welbeck as Arsenal's only other option. Welbeck has seemed more effective as a wide player this season though.
Theo Walcott has been touted by Arsene Wenger to play centrally and the player backed that up with a 30-minute hat trick against West Brom on Sunday, while lining up as a striker. Yaya Sanogo and Lukas Podolski will return from loan this summer although it's unlikely that Podolski will stay with the club and Sanogo could go on loan for another season. Chuba Akpom is highly regarded amongst Arsenal coaches and could feature for the senior team more next season.
This isn't the first time the Gunners have been linked with Benzema and there does seem to be a mutual admiration between the player and club.
Benzema signed a new five year deal last season but Carlo Ancelotti's sacking has caused the future of a number of player's to come in doubt. Napoli manager, Rafa Benetiz, seems likely to take over as the Real Madrid manager, and his squad retention intentions are not yet known.
It is likely that Benzema would cost both clubs between £35 and £40 million, a hefty price but one that at least one of these clubs is likely to meet if the Frenchman is indeed available.
Manchester United are in more need of a striker considering the lack of the depth in that position. United's strike force of Rooney, Falcao, Wilson, and van Persie managed a paltry 26 goals in the league between the four of them. Regardless of who leaves, United are in need of a serious goal scoring threat.
Arsenal have the depth and enough quality, but could use an upgrade and if a world class player becomes available, Arsenal will be interested regardless of the player's position. Benzema would certainly be an upgrade that represents the world class talent that Arsenal are interested in. Moreover, Wenger has gone on record as saying that he is looking for another 15 goal per season-type player. Benzema easily fits a player of that description.
Of the two, Arsenal may be a better fit tactically as Benzema is used to playing at the point in a front three. Furthermore, the presence of a French manager, French international teammates, playing in the English capital, and playing with former teammate Mesut Özil could make Arsenal a more appealing destination for social and footballing reasons. It won't hurt that Arsenal's squad is built around talented players hitting their prime compared to United, who face a squad overhaul for a second straight season with much uncertainty in many positions.
On the other hand, Manchester United may be able to offer slightly more lucrative financial terms and their interest could be more genuine compared to a more likely passing interest and admiration from Arsenal.
Things will become clearer once Real Madrid appoint a new manager, with an announcement expected in the next two weeks.