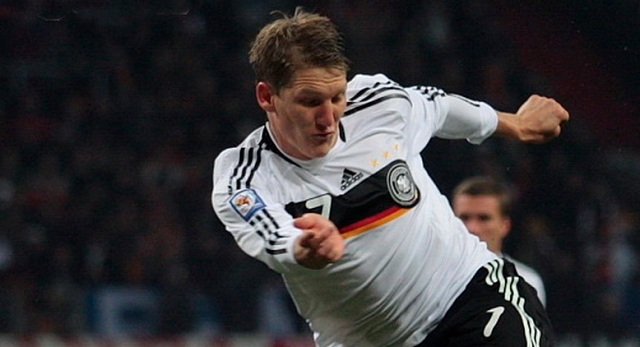 Louis van Gaal and Manchester United have locked up fourth place in the Premier League at the conclusion of a disappointing season. A team lacking star power and creativity may be to blame for their lackluster performance this season. A signing of a proven player who can influence any game is a must for Loius van Gaal, if he wishes to compete for a title next year.
Rumors have been circulating of Bastian Schweinsteiger making the move to Manchester in the summer. Express has reported that Schweinsteiger has one year left on his contract at Bayern Munich and then continued to refuse to talk about Manchester rumors. The German world cup winner has proven to be loyal in his career, as he has never moved on from Bayern in his 13 years of professional play. For the 30 year old to make the move now would certainly be a surprise.
Schweinsteiger is regarded as a 'midfield mastermind,' capable of playing any position and providing an impact. He has a lethal strike and is also a top quality free kick taker. Schweinsteiger, though, is very creative and is capable of playing a ball or making a move to start any attack. He is also very regarded for his work ethic and relentless motor, as he is always giving his all to his team. He is a proven talent and warrior that would be warmly welcomed in a mis-fit Manchester United midfield.
If van Gaal were to be able to pry Schweinsteiger from Bayern Munich, his midfield would be tremendously improved. With Juan Mata being an ultimate disappointment since his move from Chelsea, Schweinsteiger would add sure fire talent and leadership to the postion. The German would also be fairly cheap, at a cut rate of only 10 million. He would undoubtedly help turn the Red Devils back into a serious threat.