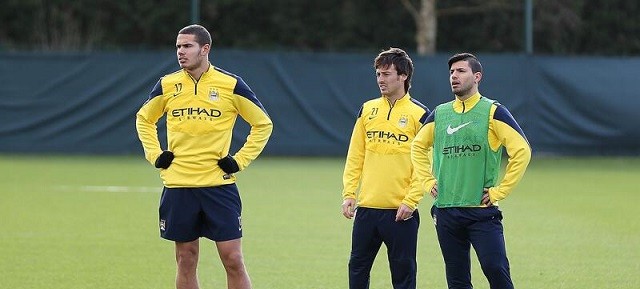 Manchester City might have had distant hopes a few weeks ago that the final match against Southampton would mean something. The possibility of catching Chelsea was made mathematically impossible a couple of matches ago. On the positive side of things, City have already locked up second place and an automatic qualifying spot to the Champions League group stage. There has been much speculation, despite City officials stating that Pellegrini will be back next year, that the Chilean manager will be out of work. Who Pellegrini decides to field will indicate who he wishes to build the squad around.
Goalkeeper:
If there was any question about Joe Hart's place at Manchester City at the start of the season, there certainly isn't now. Hart made a save that looked was truly world class. His timely saves have kept City in many games this season and preserved some valuable victories for the men in sky blue.
Defense:
It was somewhat surprising to see Kompany on the bench last week, but with nothing to gain or lose on the final day, expect the City skipper to be on the bench again. Depending on how his fitness is coming off the back of another injury, he may start. However, Pellegrini will not feel pressured to rush him back into the starting lineup, because the Mangala/Demichelis partnership has proven to be an effective one. Zabaleta and Kolarov are likely to continue their run of appearances together in the outside back slot, as both have proven over the course of the season to be the most effective players in that position.
Midfield:
The five man midfield has become Pellegrini's preferred formation the last few weeks of the season. Yaya Toure will undoubtedly start after his two goal performance last weekend. Lampard is also a top candidate to start his last ever game in the EPL, who will certainly come off to receive a standing ovation some time in the second half. Silva will once again be tasked to provide the incisive ball, and James Milner will get at least one more runout in a City shirt. Fernandinho or Fernando will be the other central midfielder, and it looks as if Fernandinho has won over favor with manager after a shaky start to his Manchester career,
Attack:
If Pellegrini continues to use a one striker formation, there is only one man for the job. Aguero must feel hard done by not getting into the team of the year. He has bagged the most goals and has the highest goals plus assists total in the league.The Argentine striker will start, and Bony should expect to get more second half minutes than against his old club Swansea City.