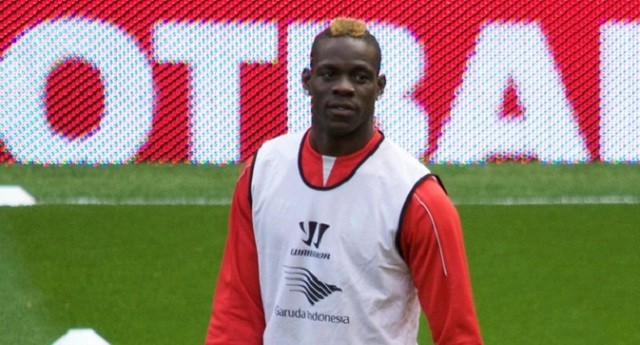 I guess it's a little controversial to call Balotelli a "misunderstood genius" when he has only scored 1 BPL goal this entire season. Only 4 goals in all competitions. To say that this season has been below-par would be a horrendous understatement. But let's rewind a bit, shall we?
What if we go back to last summer, when Brendan Rodgers — my feelings on him are well-known — and the rest of the Liverpool board were being hailed as transfer gurus for securing a player with tremendous potential for less than his market value. That transfer coup was rightfully lauded, as Liverpool paid only €20 million for his services. To put that into comparison, Transfermarkt deemed his market value at that point to be €27 million. Now they only calculate his value to be €15 million. I think that's kind of offensive, especially when Roberto Soldado, a Tottenham 'striker', is worth €14 million.
How to Properly Utilize Balotelli
After his performances this season, people must be perplexed as to how Super Mario was ever worth €27 million. It's no secret that Balotelli has bags and bags of potential, but how to fully utilize this untapped potential has plagued many managers. Some of them great: Roberto Mancini, Cesare Prandelli, Massimiliano Allegri and Jose Mourinho; some of them less so,*ahem* Brendan Rodgers. His output has varied greatly at each team, under each manager.
However, an argument can be made that Balotelli's best performances were for Italy, half a season for AC Milan, and a sole season in the BPL. Barring the father-son relationship that Mario had with Mancini, he plays at his best when under a strong, authoritative manager. Balotelli needs a strict coach who will force him to play for the team, not Mario. He needs a coach who knows what he can do, what he will do, and what he will never do. But above all that, Balotelli needs to respect his manager.
That's why Rodgers has failed with Balotelli. He has been too lenient on Mario, and so, Balotelli has lost what remaining respect he had for Rodgers. If you don't have Mario's respect, don't even bother telling him to change his game, to press the ball high up, to run around like Suarez. Rodgers should have known what type of game Balotelli plays: a title-winning assist, a 30 yard rocket, a shoulder tap-in. But never a high-press Dortmund style of play. Why buy Balotelli if you're looking for a completely different player?
In addition to all these little details that need to match Balotelli perfectly, I believe that at his best, he needs a smaller, more agile strike partner willing to do the work that Balotelli is allergic to. For example, look at Antonio Cassano during Euro 2012. His technique and nippiness was the perfect foil to Mario's brute power. Cassano was the rapier and Balotelli was the sledgehammer. That duo completely each other perfectly and, because of their contributions, Italy was able to reach the final. In this regard, I believe that it was Brendan Rodgers's plan to combine Sturridge with Balotelli in the thinking that Sturridge and Sterling could stretch the defense with their non-stop movement, and Balotelli could wait in the box to pounce on any scraps. It's not really Rodgers's fault that Sturridge is becoming Diaby MK II.
What's Next for Mario?
Why do managers and teams persist with Balotelli? His combination of pace, strength, technique, and flair could, in theory, make him a perfect striker. And yet, his mental attributes have always hindered his progress. He only plays well when he feels like it. Pundits may call him inconsistent, but he chooses when to try and when to sulk. Balo can turn it on with a flick of a switch. He's lazy, it's true, but some believe that by being in the perfect position you never need to run. But, Mario's biggest attribute is his ability to keep his cool. How many times have you seen the Italian stare down a goalkeeper while the opposition attempt to get in his head, and then perform his stutter-stop technique to send the goalkeeper the wrong way? Countless. Did another player have a website dedicated to his efficiency when taking penalties? No. You will never see a site called hasrickielambertevermissedapenalty.com, because no one cares about Rickie Lambert.
What Balotelli needs now is to combine his ability to stay as cool as a cucumber with his finishing skill. But he won't get that at Liverpool. He is a man devoid of confidence; he looks like a shadow of the impudent, brilliant man-boy who charmed the British public at Manchester City. At his best, whilst managing his controversies and scoring wonder goals, he comes up with quips like this: "There are two metaphors for Mario the person and not Mario the footballer. I think I am a man, but I don't believe I need to say it. But I could also be Peter Pan because I do things my own way and I am free. So, yes, maybe I should say that I am Peter Pan – although I am much more of a man." 

What has happened to this man, who was part philosopher, part clubber, and a footballer on the side? His slide from the upper echelons to mediocrity — not unlike Liverpool's slide in the last decade — is as painful to watch as Cesc Fabregas winning the Premier League with a team not called Arsenal. Worse than that, Arsenal's archenemy: a "football" team named Chelsea.
It would be especially disheartening to see Balotelli move to Qatar and retire early. With a player who had so much skill, so much potential, to end up as an also-ran should sadden the footballing community. No other player could pull off his shenanigans, whether it be lighting fireworks in his own bathroom, or throwing darts at youth players out of boredom. There's only one Mario Balotelli.