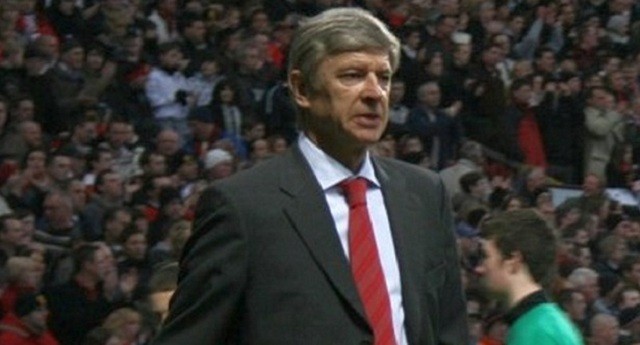 Arsene Wenger is not ready to discuss transfers just yet and insisted Arsenal will wait until the end of their season to start conducting any kind of business.
"We have put so much effort in that it would be stupid not to finish the job well. The transfer period comes after the FA Cup final."
It was reported yesterday that Raheem Sterling would inform Liverpool that he will be seeking a transfer from the club this summer. Immediately, speculation rolled in surrounding a possible move to Arsenal, Manchester City, PSG, or Real Madrid. Wenger was pressed on the topic of Sterling, to which he responded in a coy manner.
"In the summer we will bid for people, but at the moment we are not in transfer mode at all. You absolutely want me to say something that I don't want to say. I don't like to lie. If I say that I will [bid] and I don't do it, then I have lied."
It was an interesting response because Wenger did not specifically say "no", which he is known to do when he is not interested in signing a player. The interest from Arsenal may be real at the moment, but there is nothing to read into right now as nothing concrete has happened regarding Sterling's status with Liverpool. If anything, Arsenal are likely doing their due diligence regarding a top player who may be available, just like every major club is likely doing with Sterling.
Sterling's future may have a bearing on Theo Walcott's future, but at the moment there is no connection between the two. Walcott could still easily sign a new contract and Arsenal could still sign Sterling if they are in fact interested in him, regardless of Walcott's status.
Sterling would be an interesting addition to Arsenal's squad and would certainly provide the additional goal scoring threat Wenger is apparently looking for. He wouldn't start over a healthy Alex-Oxlade Chamberlain or Alexis but he would provide valuable depth on the wing.
Although Wenger was coy about Sterling, he more or less confirmed that Arsenal would be in the market for a defensive midfielder. Wenger was full of praise for Francis Coquelin adding that if he bought the Frenchman at Christmas for £40 million, everyone would have praised Coquelin for being an outstanding player. But Wenger added that the surprise emergence of Coquelin had not changed the clubs summer plans.
"It hasn't changed a lot," Wenger said. "What is for sure is Coquelin has shown he has the capacity to play for us and play a big part in the success of the team. I think nobody would dispute that his performances have been convincing and that he is ready for a fight – even if somebody comes in. Even if somebody else comes in, he will stay here. I extended his contract [in February]. That means I believe in him."
In other news, Petr Cech's agent has confirmed that the Chelsea number two would be interested in a move to North London. Czech journalist Karel Häring, reportedly spoke to Cech's agent who claimed that the goalkeeper would be open to a move to Arsenal, Manchester United, or PSG.
Cech's agent also confirmed that Jose Mourinho would not be deciding the Czech international's future but that Roman Abramovich would make the decision based on an agreement made between Cech and the chairman. Mourinho confirmed this a couple days ago.
This shouldn't be news to anybody and is merely an agent stating the obvious in an attempt to flame up interest in his client. Right now, Wenger has been very non-committal about signing a new goalkeeper and claimed last week thatthe club already have three world class goalkeepers.
This is a rumor that has been persisting for close to a year now and has heated up the past two weeks. This is definitely a piece of transfer news to keep on eye and but it's likely to end less dramatically than some would think.