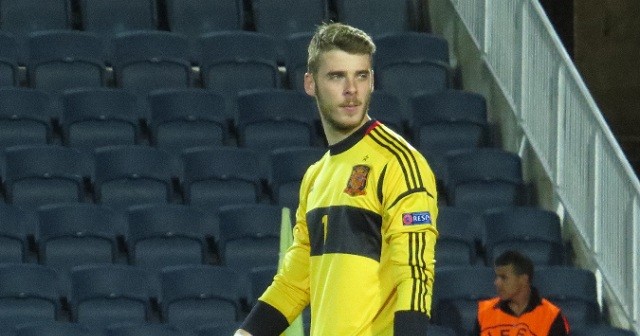 Last Sunday night, Manchester United faced Arsenal at Old Trafford for an opportunity to outstrip them of their current 3rd league standing. It was an exhilarating game that ended up 1-1, both teams were lucky to not have conceded more goals, but perhaps the most exciting news is not regarding what happened on the pitch, but rather on the outside. Manchester United's manager, Louis van Gaal revealed first hand information during his post-match press conference, about David De Gea's potential departure at the end of the season. With only a year left of his contract , Man United  have offered the Spanish international a very lucrative contract extension that would make him one of the best paid keepers in the world, but to everyones surprised De Gea has yet to agree on such deal. During Van Gaal's press conference he responded in a stern, but honest voice:
"Ive also said, transfer is an individual thing, but also a process…"

"He has to decide because we have given a  fantastic contract because we want him to stay, he's had a fantastic season I think…"

"I analyze also his position and I say: He's Spanish. He's Spanish international. Still behind Casillas. Now Spanish club coming. Girlfriend is Spanish, mother and father come every week or two weeks to watch and still its very difficult for him."

"I don't think I can persuade him."

"Because he knows everything he has at the moment at Manchester United, he knows what he has, unbelievable reaction, individually fantastic, when he's going, he's going to be losing that, because here, he has a lot of credits."
Spanish newspaper Marca, has recently published an article citing De Gea's potential transfer fee.  According to Marca, The Red Devils would net an estimated £20 million. Hardly a proper trade-off, considering the amount of time and resources they used to develop such a  young player. De Gea cost the reds £17.8 million in June 2011 and Marca claims Manchester are expecting a fee upwards of £50 million for his development which seems like a more respectable price.
Rumors are also spreading about a potential swap for De Gea and Real Madrid's Gareth Bale who this season has been lackluster. The rumors are loosely based on non-credible sources and the Daily Star claims rumors are false. Real Madrid will need to  splurge this summer transfer window to reinforce the first team. They failed to reach the Champions League Final or pick up  any silverware this season but they will come back stronger than ever next season if they do strike a deal with Manchester United.