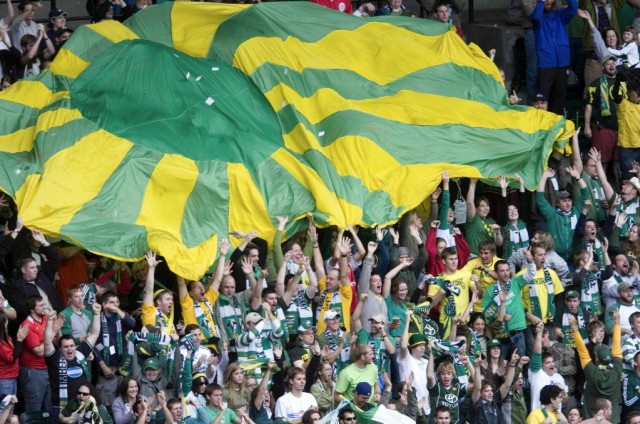 The Portland Timbers 2015 campaign thus far has been nothing short of a train wreck. It took five matches before they were able to notch a win, and two of their three wins came against the bottom two squads in the Eastern Conference (in fairness, they did beat FC Dallas, the current Supporters Shield Leader).
And a case could be made that this plight began on Sept. 27 of last year, when Will Johnson brutally fractured his right tibia and fibula just moments into the match against Toronto FC. Up until then, however, most of the Rose City had it out for Johnson due to his generally uninspired play throughout the course of the season.
The opportunity gave Ben Zemanski a chance to step up, and in the home stretch as the Timbers looked to clinch a postseason bid, Zemanski's deep-laying nature proved to be an essential asset. However, the injury bug hit Zemanski in the Timbers Feb. 22 preseason match against Vancouver, paving the way for Jack Jewsbury to step in.
Jewsbury, who can play both in a back four and defensive midfield role as yet to truly find his identity on the pitch this year. In fact, with the revolving door of midfielders the Timbers have seen (though not by choice), Caleb Porter must be having fits attempting to determine how to play the ball through midfield.
And most of it has to do with Diego Chara, and his ability to play both ends of the pitch. A Chara/Johnson combo often leaves the defense out to dry, as both can get a little ambitious on the attack and neglect defensive responsibilities in the midfield. Zemanski and Chara matched up well due to Zemanski's versatility. He is noticeably more comfortable on the defensive end, but can facilitate the counter attack if the ball is played up his wing. The Jewsbury and Chara combo allows Chara to run wild with the security of Jewsbury defensively at his back.
So in essence, Johnson's imminent return in the coming matches means Caleb Porter has a variety of options at his disposal. Try and score more goals by starting Johnson routinely (a tactic that did not work exceptionally well last year as their 61 goals scored were countered by a third-worst in the West 52 conceded), or stick with Jewsbury and allow Johnson to serve as a substitute until his earns his spot back in the starting XI.
Whatever the case is, Johnson is not going to be the one to turn this Timbers season around. The 2014 season gave the Timbers belief that they were a forced to be reckoned with, but this season thus far has been a sign that they are simply not ready to compete.
Will Johnson will be a luxury to have back, but he will simply not be a 90-minute mainstay because the other pieces of this Timbers puzzle simply do not have a role that he would fit in at this point that would contribute to the greater good.
As far as I see it, this is how Johnson gets worked back into the lineup in the most ideal manner.
In his returns, he starts out as a substitute, giving him some late game opportunities to find his form. In that time, Jewsbury should remain the starter. When Alvas Powell fulfills his international duties for Jamaica that will take him out of MLS on multiple occasions throughout the summer, newcomer Jeanderson starts in his position so that pace along the wings can stay consistent with what Powell and Jorge Villafaña have established. Jewsbury would not change positions. In times where scoring is needed and defense can be compromised, Jeanderson is substituted out, Jewsbury slides to the role and in comes Johnson.
Is this extensive thinking for a circumstantial scenario? More than likely, yes. But the fact of the matter is that Will Johnson can not be just thrown back into the role he was in and be expected to be effective immediately. And on top of that, he is not this squad's savior. He can help, but he is not going to help Fanendo Adi finish, or the defense not routinely get caught ball-watching on crosses and corners, and so on.
2015 will likely continue to be a long and painful one for the Portland Timbers. The pieces are there to compete at a high level, but unless running at an extremely high level, the Timbers will continue to be a mess.