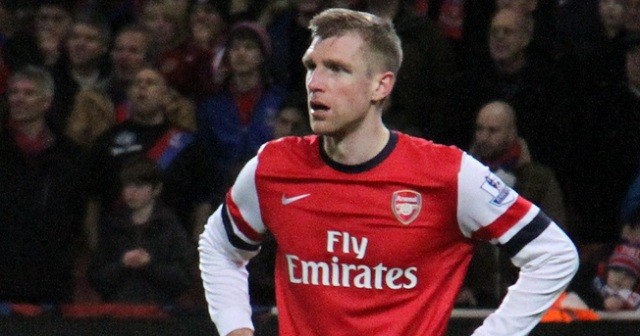 A day after a frustrating defeat to Swansea, Per Mertesacker is already thinking about Arsenal's next match against Manchester United, and he is feeling confident.
"We feel positive," Mertesacker said. "We won there once and it's possible to do that twice per season. We are looking forward to it. It'll be a massive crowd again. They will have respect. We are still in a good mood and good level of confidence. I think we are looking forward to the next four games."
Arsenal suffered defeat to Swansea despite dominating possession and creating 9 good chances to take the lead. Swansea took the lead in the 85th minute with a headed Bafétimbi Gomis goal that demonstrated the importance of goal line technology. After the loss, Arsenal sit two points ahead of Manchester United and three behind Manchester City, albeit with a game in hand.
Mertesacker was disappointed with the result on Monday, no doubt. Arsenal played well enough to win but couldn't finish a number of clear-cut chances. Mertesacker conceded that Arsenal should have done better but refused to be deterred.
"We had the opportunities but part of the progress we speak about every day is that sometimes you get a reminder. You get punished for not finishing well, for not executing, but we are still a good team and you could see that."
Mertesacker does not think that Arsenal need to change their style against Man U and pointed to Arsenal's success in controlling the midfield that last time the two teams met.
"I think most important are the duels in midfield, around Marouane Fellaini. Francis Coquelin did really well last time. I think that is a major part of their game. We need to try to control this.
"It's not going to be easy. They obviously want to keep the ball as much as possible. Can we restrict it? Can we get the ball in their half and break? That is what we did last time and we did really well."
Manchester City is favorites to finish second at the moment due to their superior goal difference. For Arsenal to finish second, they will need a victory on Sunday at Old Trafford and hope that Man City drops a point in the next two weeks. Arsenal of course will have to win against both Sunderland and West Brom as well.
Arsenal will want to avoid having to play in a Champions League Playoff Qualification matchup in August. For this to happen they must finish in third. A loss or a draw against Man U would still see Arsenal as favorites to finish in third thanks to their game in hand.
With an FA Cup Final coming up at the end of May, Arsenal will want to win this weekend and rebuild their momentum.