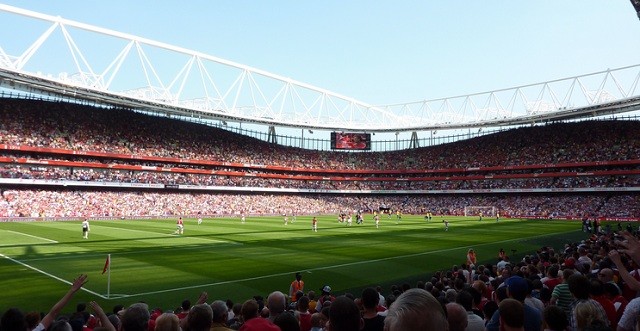 Arsenal have surged to second place in the second half of the Premier League season. With just a few games remaining and the title contention already over, heads are turning to how Arsenal will lineup next season.
With a Champions League spot just about locked up, Arsenal will surely have plenty of cash to splash in the summer, and with just a few players needed to launch a title challenge. Arsene Wenger has recently stated his pleasure with the current squad, and claims that he will only make "world class" additions to the squad this summer.
Even though Arsenal have one of the best attacking midfields and attack in the world, Arsene Wenger will no doubt be looking to buy a player that is going forwards. There have been some big names linked recently, and here is a breakdown of the rumors.
Isco: It is reported that Isco has become a surplus to the requirements at Madrid. A player that has often featured in Ancelotti's squad, he would almost seem a surprise exit this summer. The 23 year old has a ton to offer now and in the future, and would fit perfectly into Arsenal's free flowing football.  He is reportedly available at 33 million pounds. If Santi Cazorla were to leave the likeness of this transfer would increase dramatically. Isco is a player that can play in an advanced role or in a deep lying playmaker role, as shown when he filled in for Luka Modric. Probability:  6/10
Marco Reus: After signing a new contract this winter it seemed very improbable that Reus would be leaving Dortmund. However with manager Jurgen Klopp leaving the club, many believe that the star players will follow him out. Reus would cost a significant transfer fee, but would no doubt be worth the money. Probability:  4/10
Gonzalo Higuain: Thierry Henry has recently struck out at current Arsenal striker Olivier Giroud saying that Arsenal will not win the title with him leading the line. Higuain would certainly be able to lead Arsenal to a title. The prolific Argentine has 26 goals and 10 assists in 45 games this season. He has been linked with a move out of Napoli if they do not qualify for the Champions League this campaign. There is no doubt he would add tremendous talent up front and should definitely be signed if available.  Probability: 7/10
Raheem Sterling: No one knows what the future holds for the England starlet, not even himself. After demanding a 100,000 pound per week contract at Liverpool, he declined it, urging on bigger clubs to bid for him. English talent is often overpriced however, and it would cost an excess of 40 million euros to pry him from Liverpool, more than Isco or Reus would cost. Probability: 2/10
Pedro: Pedro has fallen way down the pecking order at Barcelona with the likes of Neymar and Suarez joining the club. Pedro was long linked with a move to Arsenal last summer before Wenger signed his teammate Alexis Sanchez. Wenger could now be looking to move for the Spanish international for around 20 million pounds. A good deal for a player of his quality, but he may not be the marquee signing that Arsenal are looking for at the moment.  Probability 6/10
Even with the emergence of Francis Coquelin, Arsenal will still be looking to sign a strong defensive midfielder. With Aaron Ramsey, Jack Wilshere, and Santi Cazorla all available to play in a box to box role, Arsenal should be looking to sign a true defensive midfielder, ruling out the likes of Gundogan and Georginio Wijnaldum.
Morgan Schneiderlin: The Southampton star has been linked with a move to Arsenal all season, and with Southampton looking to miss out on Champions League football, this move could definitely be on the cards. He is rated around 20 million pounds.  A fair price for a player with Premier League experience, youth, and loads of quality. He should be a must sign for Wenger if he wants to compete with Chelsea for the title. Probability: 8/10
William Carvalho: The young Portuguese star was close to signing with Arsenal last summer, but it seemed that the deal fell apart at the last minute. A big presence in the center of midfield, Carvalho is young and talented, and there is no doubt that Wenger would turn him into an elite player at Arsenal. He would also cost around 20 million pounds. Probability: 6/10
Marco Verratti:  A name less linked with Arsenal, but probably the best option out of the three players. Verratti has established himself as an enforcer for PSG this season. He is keen to break up play, as shown with his 19 yellow cards in 47 appearances for club and country. The Italian international would not be cheap, as he is young and already world class. Verratti is an amazing passer and is instrumental in PSG's buildup, something that Coquelin lacks at Arsenal. He also offers Champions League experience, something that Schneiderlin and Carvalho lack. Probability: 4/10
Another area that Arsenal need to strengthen is goalie. There is no doubt that David Ospina has performed very well this season, but he lacks the quality of an elite championship contender goalie. Here are some of the options that Arsenal seem to be interested in.
Petr Cech: After playing second fiddle at Thibaut Courtois this season, Cech indicated that he will not repeat it next season. With loads of Premier League experience, Cech would be a vital signing to Arsenal's title challenge. Chelsea will be reluctant to sell him, but the lure of staying in London may allow Cech to go to Arsenal. Probability: 7/10
Hugo Lloris: One of the best goalkeepers in the league and playing for Arsenal's biggest rivals, Lloris would cost more than 25 million pounds. That is quite the pricetag for a goalie, but he would be worth it. One of the most consistent performers in the league this year, he will be looking to play Champions League football, something that the Spurs cannot offer. Probability: 5/10