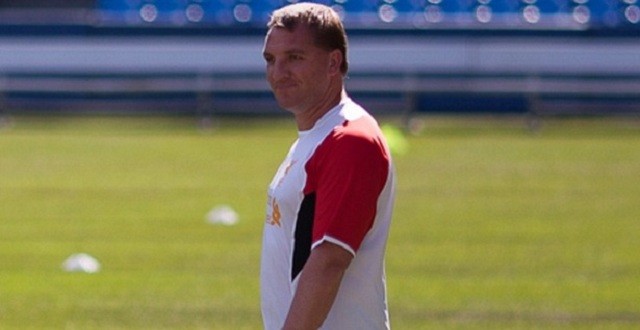 "This club and many other clubs have shown over a period of time you move on, and believe me, it will be a really exciting season for us." Brendan Rodgers. He spoke these words after selling Luis Suarez to Barcelona in the summer of 2014. I guess you could say that 2014/15 hasn't been an unparalled success. It's these types of statements that makes the public compare him to another paranoid manager, Jose Mourinho. This shouldn't be a surprise, as Mourinho mentored Rodgers during Mourinho's first stint at Chelsea.
However, whilst Mourinho is an extremely defensive coach — some say he created Catenaccio — Rodgers attempts to pass himself off as an attack-minded manager. He is far more attacking than Mourinho — unlike the Portuguese manager, he keeps less than 10 players behind the ball — but so is everyone. His brand of style, almost Dortmund-like, is lauded when it comes off; rightfully so, as when the small players start pinging the ball around, they create a masterpiece. When it doesn't, he looks like a fool, open to a counterattack at any moment.
His playing style, positive and looking for those effective passing triangles, is something to be lauded. Last season, when Coutinho, Henderson, Sterling, Sturridge and Suarez combined, they often created goals of beauty. The swagger in which they would flick the ball around, like they had no weight on their shoulders, before playing a killer pass, or nut-megging a defender, or curling a finish past the goalkeeper. It was something else entirely.
Poor Transfer Policy that Impacts Liverpool Severely
That Liverpool side would blow any opposition away in the first 10 minutes of a game. They were a freak of nature. So what happened to that entertaining side for it to become the lifeless slump that it is now?
We can compare Liverpool's current predicament to Borussia Dortmund's plight. Dortmund was able to survive after it lost Mario Gotze; I say survive, but they did quite well, being runners-up in both the Bundesliga and the DFB Pokal, as well as reaching the quarter-finals of the Champions League. But this season, they currently lie in 9th place, which is as shocking as Tottenham winning something.
Dortmund has failed this season due to the sale of star striker, Robert Lewandowski. He would save them from a tie, or finish off a wonderfully worked move. Sure, Hummels and Reus are important, but Lewandowski was irreplaceable.
Now look at Liverpool. Sterling, Coutinho, Sturridge are crucial to Liverpool's success, but Suarez was priceless. While it may not have been Rodgers's choice to sell Suarez, it was his responsibility to bring in a proper replacement. Of course, Rodgers may not have had a great influence on the situation, but he still should've voiced his thoughts to the board. Anyone would've been better than Liverpool's current crop of strikers. Balotelli? 1 goal. Lambert? 2 goals. Borini? Just like Balotelli, a solitary goal in the BPL. His lack of judgement with the whole Suarez situation was shocking for a man lauded as Liverpool's savior.
I criticize Rodgers for his transfer policy, but I'm not so sure he's the one who controls it. Only purchases — Sturridge and Coutinho — can really be considered successes. I'm sure that when Suarez left, Rodgers may have looked at Tottenham and seen how they failed to replace the impact of Bale (a superstar) with 7 mediocre players. Rodgers may have thought that Liverpool would chase Mandzukic, Benzema, or players or their ilk. Instead, the Liverpool board — with or without Rodger's approval — decided to take a bet on the worst gamble in history, Mario Balotelli. Actually, I apologize; the worst gamble in history has to any bet on England winning a World Cup.
Tactical Ineptitude
Moving on, pundits and other self-proclaimed "experts" consider Rodgers's ability to shift between multiple formations and team shapes a strength. However, playing reactively to your opponents instead of proactively is something to be looked down upon. A manager with true faith in his team and abilities should set out his side to impose their playing style on the opposition, not change their style to nullify the opposite team. Changing your team's style week-in, week-out makes it seems that you're only playing for a draw, the antithesis of English football.
Not to mention the effect that the constant formation switch has on the players in the system. Soon players aren't sure exactly what their role is. For example, take the Liverpool vs Arsenal game. In this fixture, Rodgers sent Henderson (Liverpool's best central-midfielder) to play a very defensive right-midfield role, in order to nullify the threat of Alexis Sanchez; a move that backfired spectacularly. Liverpool were overrun in midfield, offering plenty of space to Ozil, Cazorla, etc, which Arsenal willingly exploited. That 3-4-3 formation did Liverpool no favors, as an already light midfield was made even lighter with Henderson's removal.
In addition, the tactical decisions that Rodgers made during the fateful Crystal Palace game doomed him. Rather than take the sting out of the game and control possession, Rodgers continued to employ his high-risk, high-reward style. That loss falls solely onto his hands. I cannot blame him for the Chelsea match, as Mourinho set out his side to be as boring as possible. Rodgers ultimately prevented Liverpool from claiming their desired title.
Egotistical? A Perennial Loser?
After such shoddy performances, Rodgers's personality makes it hard for anyone to like him. He acts just as smug as Mourinho, but without the charisma. And if you fail to get the media on your side, then you are doomed to Of course, who can forget the painting that he had of himself in his own home, as revealed by Being Liverpool. He had it hung so that if anyone entered the room, they would be forced to see it. For those of you that haven't seen the Liverpool documentary, I thoroughly suggest it. I found it to be a good laugh, especially when they had to put captions on Gerrard and the other Scousers.
I'll end this with one last thought about Rodgers:  Rather than being hailed as Northern Ireland's answer to Jose Mourinho, perhaps he should be recognized as the Northern Irish David Moyes. He is a man capable of snatching defeat from the jaws of victory. Maybe he should apply for a managerial position at Tottenham, I have a feeling he would be a perfect fit.