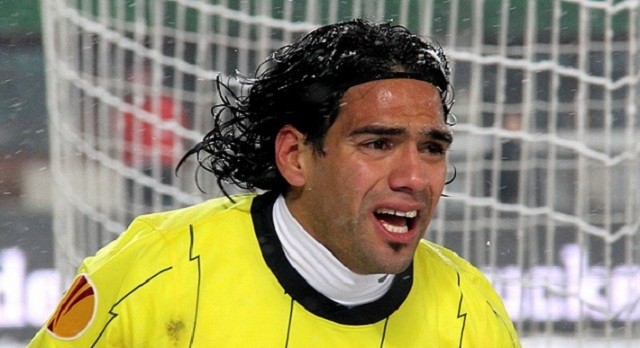 It is fair to say that Radamel Falcao's stint at Manchester United will only be remembered for the wrong reasons, probably because there aren't in fact any particularly good moments and not even the goals he scored will serve to embellish his season at Old Trafford.
The Colombian sharpshooter will probably not stay with the Red Devils for the season to come, as it is not very likely that United is willing to spend a huge amount of money on a 29-year old player that is allegedly not fully recovered from a severe knee injury, which remains as the only plausible explanation for his overall mediocre performances with Manchester United.
If Falcao really end up leaving the club and if we have in mind Van Persie's recent injury proneness and also Louis Van Gaal's opinion on Javier Hernandez, we are forced to admit that United need to bring in at least one top quality centre forward in order to attack the English Premier League title next season.
Let's take a look at three centre forwards that would probably be a good fit to United's game style in case of Falcao's departure.
Bas Dost
Wolfsburg's splendid performance at Bundesliga this season is intimately connected with Bas Dost's quality performances and with the amount of goals he has scored. The Dutchman has already scored a total of 16 goals so far this season, 13 on Bundesliga, 1 on Pokal (German Cup) and 2 on UEFA Europa League.
Bas Dost is a powerful forward, very dangerous on aerial game and with a refined quality when it comes to holding the ball. If we analyse his recent stats, we can easily understand that his finishing skills are also fairly good and although he is not as technically gifted as Radamel Falcao, he might prove to be of good use if Van Gaal needs to field a player capable of holding his position inside the box waiting for crosses that would privilege his excellent heading skills.
Jackson Martinez
Replacing a 29-year old Colombian striker for another one almost the same age and equally expensive might seem far fetched, but if we look at what Jackson Martinez has accomplished ever since he arrived in Europe, three seasons ago, we certainly understand that he would be of good use to Manchester United.
Jackson has been enjoying a fantastic stint with the two-time European champions FC Porto and he was one of the "architects" that helped build the Portuguese team's sensational win over the all-powerful Bayern Munich three weeks ago. Cha Cha Cha Martinez is not a mere centre forward who stands on the box waiting for the ball, he is far more than that. His refined technique, above-average intelligence and quality passing skills allow him to act as a deep lying forward in a tactical style that involves two forwards. Jackson has already hinted that he will be leaving FC Porto next Summer and the EPL will probably be his new venue, given his confessed admiration for English football.
Mauro Icardi
Inter Milan's Argentinean forward Mauro Icardi is probably one of the most wanted players at the Old Continent by now. The 22-year old forward, who spent some time with Barcelona back in his youth days, has been having a wonderful season at the unbelievably unstable Roberto Mancini's Inter Milan.
Icardi has already netted in 18 goals in 31 matches at Serie A this season and he is only two goals away from the league's top scorer and former United's player, Carlitos Tevez.
Although Inter may be reluctant to sell one of their most important players next Summer, they will need to try hard to convince Icardi to spend another season in a team who has not yet granted European football for the season to come.