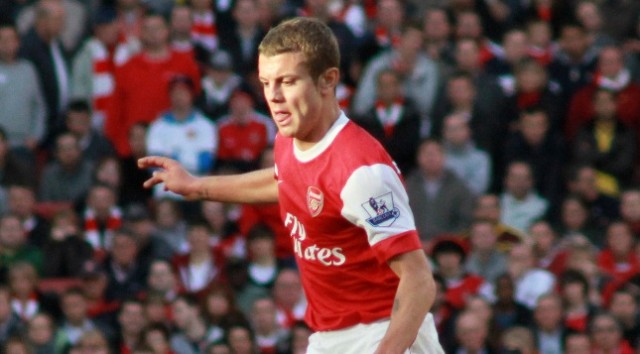 Last month, Arsene Wenger issued a "hands off" warning aimed towards Manchester City. The warning was in regards to City's alleged pursuit of Arsenal midfielder Jack Wilshere. After an inconsistent start to the season, an ankle injury has forced Wilshere to watch much of the season from the sidelines. Arsenal have carried on without the England international and his teammates have been in fine form.
Although Wenger issued a warning, recent reports have surfaced that City are set to launch a £30 million offer for Wilshere. Even with a tempting offer, Adrian Kajumba of the Mirror reports that Wilshere is not going anywhere.
Arsenal have let a number of players over the past few seasons leave for the Etihad, and those players have experienced varied levels of success.  Wilshere, only 23, has been hampered by injury during his senior career at the Emirates and has 3 years remaining on his current deal.
Arsenal are firmly in the driver's seat in this deal, as they would stand to gain whether they sell Wilshere or not. £30 million for Wilshere, whose place in Arsenal's midfield is not a certainty, does not sound half bad. Couple that with Wilshere's injury issues and Arsenal may see this as a deal they cannot pass up. If they chose to keep Wilshere, who has been a fantastic servant to the club, they will still have a young midfielder who has shown immense promise.
But what does Jack Wilshere himself make of this situation? While it is impossible to know, he may view this as a new possibility. City are clearly in need of midfield reinforcements this summer. Yaya Toure is aging and while still a threat, his form has suffered. Samir Nasri appears to be slightly out of favor and this leaves only David Silva, who possesses any type of consistent attacking threat from the center of midfield.
On the flip side, City's managerial situation is also up in the air. There is the possibility that Manuel Pellegrini may not be the manager next season. If City are to appoint a new manager, this will certainly play a role in any potential move. Depending upon who City assign the role of manager to, this could either improve or diminish any potential desire Wilshere might have in joining the Manchester outfit.
Wilshere could also look at his current club's midfield depth and realize that competition for places is intense. The Arsenal midfield currently contains, Mesut Ozil, Santi Cazorla, Aaron Ramsey and Alex Oxlade-Chamberlin (who Wenger believes has a future in the center of midfield). Early in the season, Wenger attempted to pair Wilshere and Ramsey together. The result did not create the success which Wenger had hoped. With Ramsey seemingly above Wilshere in the pecking order, Wilshere might view a move north as a real possibility.
Ultimately, while much of the fan base would prefer Wilshere to remain with his is boyhood club, £30 million could be too much turn down. At present Wenger is adamant that Wilshere will remain a Gunner. Only time will tell where Wilshere will play his football next season, and talks between Wenger, Wilshere and both clubs will have a telling impact. What is certain, is that Arsenal and Wilshere will a number of issues which they must consider.