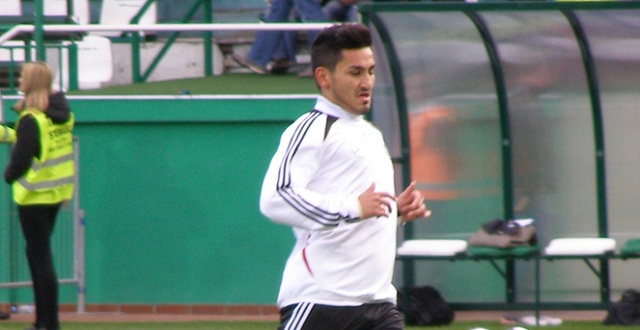 The news that Ilkay Gundogan will not sign a new contract with Dortmund has led to a firestorm of rumors linking the German midfielder to various clubs. Arsenal and Manchester United have been the two most mentioned clubs so far.
Gundogan is a creative midfielder who plays slightly deeper and has a tenacious side to him. He spent 14 months on the sideline though, with a career threatening back injury. He has been diagnosed with spondylolisthesis, which is a condition where a vertebra in the lower back is displaced and pushed forward above the bone below. It is known to cause hamstring injuries.
Arsenal would have to spend nearly £20 million, which seems like a lot of money for a player who could be an injury liability. While it's true that Arsene Wenger has long been an admirer of Gundogan, it's hard to believe that he would want to add a player who could be an injury liability for the rest of his career.
Arsenal would likely have to pay high wages for the German and, as mentioned above, a large transfer fee. It's possible that Dortmund and Gundogan came to a contractual impasse because of wage demands that Dortmund did not want to match because of his injury history.
It's surprising that Manchester United is interested in Gundogan as well. It's not new that they are looking for a world class midfielder, but like Arsenal this season, they have suffered a copious amount of injuries this season. In fact, a report published yesterday showed that Manchester United suffered the most injuries in the Premier League, with 68 separate injuries. Arsenal was in second place with 66. You would think that Man U would want to avoid signing a player who could be in and out of the squad. Then again maybe they know something that I don't
Other clubs that have been linked with Gundogan include Chelsea, PSG, and Bayern Munich who have a habit of taking Dortmund's best players the past two seasons.
Because of Gundogan's injury history, teams are likely to wait it out during the summer to make sure that they aren't over paying for him in both wages and transfer fees owed to Dortmund. Gundogan could be in store for a long and protracted summer.