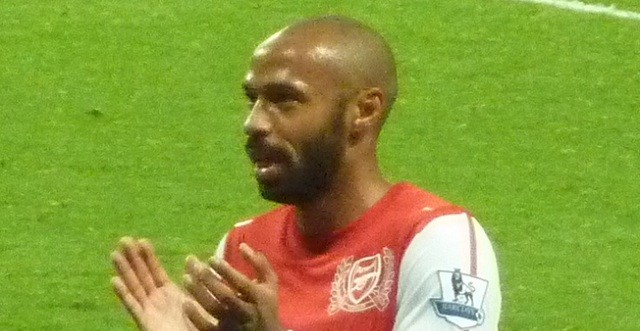 Arsenal legend, Thierry Henry, stated during his post-match analyses on Sunday that Arsenal need to sign 4 top players during the summer. He called for Arsene Wenger to strengthen "the spine of the team" and used Chelsea as an example.
"They need a goalkeeper, they still need a center-back, they still need a holding midfielder and, I'm afraid, they need a top, top-quality striker in order to win this league again.
"The best example for me today was Chelsea. They struggled last year and they were still competing to win the league. They now have [Thibaut] Courtois, [Nemanja] Matic, Cesc [Fabregas] and Diego Costa."
Henry recently came under criticism for holding back in his commentary with Sky and his statements could be in response to that criticism.
It seems a bit harsh to say Arsenal need 4 players and the prospect of that happening seems low, considering who exactly could Arsenal sign that would be an improvement over what they have. Two or three top signing seems more realistic, but the question is who is available?
I agree with Henry that Arsenal need an improvement at goalkeeper. David Ospina is not a long term solution and if Wojciech Szczesny can't get himself together he certainly isn't either, despite his talent. Petr Cech is the name rounding the press and he would be an upgrade over what Arsenal have.
After Cech, which other goal keeper is available?
At center back Arsenal have depth with Per Mertesacker, Laurent Koscielny, Gabriel, and Calum Chambers. Chambers is one for the future and has shown great promise. Gabriel was recently signed, is young, and could be starting by next season based on his performances this year. Koscielny is one of the best center backs in the Premier League and Mertesacker's experience, leadership, ability to read the game, and good showing the second half of the season gives no reason to believe he won't be valuable next season.
The only player who could be an upgrade over this unit and is available as of now would be Mats Hummels. The Dortmund defender seems destined to sign for Manchester United though.
Which center back could Arsenal sign otherwise?
I'm not sure there is an answer to that right now.
Next, Henry mentioned Arsenal need a holding midfielder. I agree with this sentiment, especially considering Mikel Arteta's age and Mathieu Flamini's likely summer departure. The timing of his comments are strange though, considering he praised Francis Coquelin only a few weeks ago. Coquelin has been immense for Arsenal and he has really turned their season around. Arsenal will not find a player like Coquelin on the market, players like that are rare now a days.
Two names being thrown around is Morgan Schneiderlin and Ilkay Gundogan. Both are good holding midfielders and are available but neither are in the same defensive mold as Coquelin. What Arsenal need is player like Geoffrey Kondogbia who is defensive minded but is not available this summer.
I don't think Schneiderlin is an upgrade nor does he fit what Arsenal need. Currently Santi Cazorla, Aaron Ramsey, and Jack Wilshere can all play the same role as Schneiderlin. Gundogan has a terrible injury history and Arsenal could do without another player like that. Additionally, like Schneiderlin, Gundogan does not fit the tenacious, defensive holding midfielder role that Arsenal need, he is good defensively but likes to get forward, a bit like Alex Song worryingly enough.
Of the two I would prefer Gundogan based on his skill set. Schneiderlin is a good player but I don't see him getting starts over Coquelin or any of our midfielders currently. Gundogan's injury history is very worrisome though.
But again, who is available that meets Arsenal's needs and would be an upgrade?
Lastly, Henry mentioned that Arsenal need a striker. Again, I think he is right that they do need an upgrade here even though Olivier Giroud is having an excellent season. Giroud's link up play and goal scoring record have been massively important to Arsenal's second half turnaround this season. Finding a player in a similar mold as Giroud is not easy and there really aren't many strikers who can do what Giroud does or are as good as him.
One player who is been suggested as a possible summer target is Paulo Dybala. Dybala is an excellent prospect and probably will develop into a world class striker but I'm not sure he is of the right mold for Arsenal's system. His play seems to rely on his speed and he uses the wings quite a bit, like Danny Welbeck. Wenger could turn him into a target man and if that is the case then he would be a better option than Giroud considering the Frenchman's speed deficiency.
I am not opposed to Arsenal signing Dybala nor would most Arsenal fans be. He is a phenomenal prospect and will be an excellent striker. He would change the Arsenal play though and it seems like he wants to stay in Italy according to reports.
Like the other positions, it's hard to see which striker is available, would fit Arsenal's system, and would be an upgrade.
Signing four top players is no easy task and much of it has to do with who is available and I think that this will be the story of Arsenal's summer regarding transfer.
Most years we know which position Arsenal need to upgrade and which players they are likely to target. This year it's a bit of an unknown as they have depth in most positions but could use an upgrade here and there. Who is available that is an upgrade though?
It's likely they will target a holding midfielder and depending on how the goalkeeping situation plays out, I bet they sign a goalkeeper. Beyond that, it's a complete unknown.
I wouldn't be surprised if Wenger continued his pattern of signing one marquee player like he has done the past two seasons and then adding a few depth type signings. We will just have to wait and see who they are, how many, and which position.