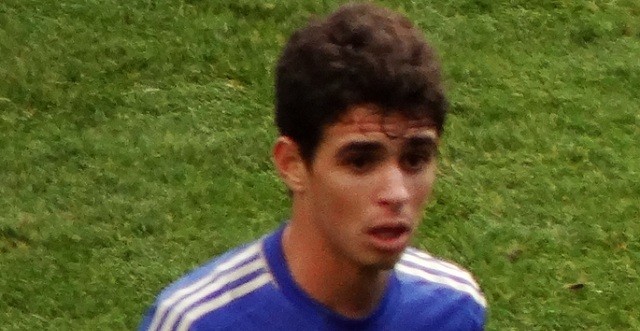 Last season, an out of favor Juan Mata was sold to Manchester United in a deal that had several fans and pundits criticizing Jose Mourinho.
Very few were convinced that it was the right move, given that the Spaniard had won the club's player of the year consecutively in the two previous seasons. Some of the harsher critics even blamed the coach's lack of faith in the attacking midfielder on personal reasons.
The reasoning was that it wasn't a case of the player failing to take his chances. He didn't even have any opportunity to mess up, to begin with, before his swift transition to the bench. So why did the coach deem him surplus to requirements?
The answer is simple. Mourinho already had a similar player who he believed was a better fit to his style of play. In Oscar, the Special One had a player who combined an impressive defensive work rate with his attacking abilities. Unlike Mata who was a liability defensively, the Brazilian's tendency to track back when the ball was lost in attacking areas gave him the edge in the battle for the central midfield starting spot.
Fast-forward some months and the decision to stick with Oscar is proving to be a wrong one. Since Mata's move to Manchester, statistics show that he has outperformed his ex-teammate in key areas ranging from successful passes to goals scored. This is despite the fact that the little Spaniard, since his transfer, did not start playing regularly until last month, fully cementing his starting place in the   3-0 thrashing of Tottenham.
Oscar on the other hand, despite the several chances he's been given has failed to fully convince this season. He has a troubling knack for disappearing in games, especially during the second half of campaigns. The fact that he is among the most substituted players in the Premier League this season and has not played a whole 90 minutes since the 1-0 capital one cup victory over Liverpool in January tells the whole story.
If the Juan Mata scenario is anything to go by, Mourinho will not tolerate the Brazilian's poor form for much longer. Oscar may find himself heading out of Stamford Bridge this summer if he doesn't do enough by way of performances to convince the manager to keep hold of him for next season.
That being said, here are three players that could replace Oscar should Jose Mourinho decide to sell him this summer.
Isco
How ironical it would be should Oscar's Chelsea career come to an end at the hands of a Spanish international, after his part in ending another Iberian's Stamford Bridge spell. The Blues have been linked with Isco on a number of occasions after the youngster's impressive performances at Real Madrid. The 23-year old has all the qualities Mourinho looks for in a midfielder. He is strong, has good dribbling skills, a decent passer of the ball and above all carries out his defensive duties excellently.
Over the past two seasons, he has grown from a solely attack minded midfielder to an all round central player, thanks to Carlo Ancelotti playing him in a slightly deeper role. As such he's already the finished package and Mourinho won't need to give him any serious education on the defensive aspect of his game like he did Eden Hazard.
However, Isco is an important part of Carlo Ancelotti's team and is highly unlikely to be sold this summer. But, should any opportunity arise, expect Chelsea to grab it with both hands, as the Real Madrid star is arguably an upgrade to Oscar.
Enner Valencia
Valencia has been one of the revelations in the Premier League this season, emerging as a key player in a West Ham side that for a brief period threatened to pip some of the league's bigger sides to a Champions League spot. The Ecuadorian combines impressive strength with pace and has an eye for goal (given his center forward origins). He can also play in the right wing making him the typical Mourinho player who can play in multiple positions.
As to be expected, an important quality of his that attracted the attention of Mourinho is his workrate. The Hammer works tirelessly in midfield, offering his team an effective avenue to defend from the front.
Sam Allardyce has shown an unwillingness to let go of his prized asset but would be powerless to stop a transfer from happening should Chelsea come with a serious offer in the summer.
Marco Reus
Reus is another world class potential that could prove an excellent replacement for Oscar. His recent contract extension with Borussia Dortmund indicates that the player is not considering a transfer. But with the latest announcement by Jurgen Klopp stating his decision to step down as coach come the end of the season, things may change.
However, Chelsea would have to pay an insane amount to secure the services of the German star posing a huge problem in the face of financial fair play considerations.
As such any deal bringing Reus to Stamford Bridge is highly unlikely in the summer.