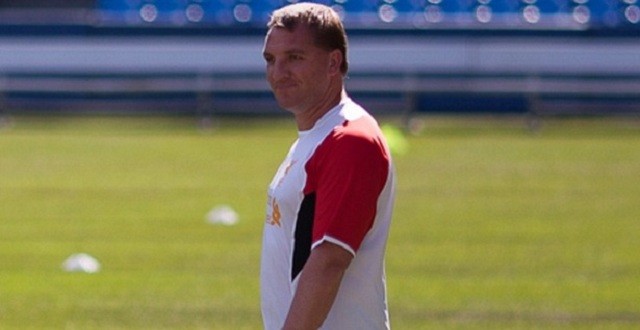 The past few weeks have been harsh on Brendan Rodgers and Liverpool. Losses in both the Premier League and the FA Cup have prevented the team from achieving its goals for the season. There is also a good chance that there will be some changes to the roster although fans will be encouraged by the fact that both Philippe Coutinho and Jordan Henderson have stated their intentions to stay with the club for a while by signing new contracts.
With both Mamadou Sakho and Daniel Sturridge out for the next few weeks, Rodgers will have to find the right players to replace them in the starting 11.
Goalkeeper
Simon Mignolet will have to prepare for one or two strikers since Tony Pulis has switched the team's formation from a 4-4-2 to a 4-4-1-1. Saldo Berahino is the team's leading scorer with 12 goals but has not been a consistent starter the past few weeks. With some excellent performances in the recent matches, Mignolet has proven to Rodgers that he is capable of being the long-term goalkeeper for Liverpool.
Right Back
Glen Johnson may return to the lineup if Rodgers uses a four man defense. He is one of a handful of players who could leave the team at the end of the season and he will be motivated to show what he is capable of to any team interested in his services.
Center Backs
With Sakho still out with an injury, Emre Can and Martin Skrtel, will have to work together and make sure that they do not make any mistakes. The solid defense that carried that team for a few weeks earlier in the season has disappeared the last few matches. Hopefully, Can and Skrtel can return to that form in this last stretch of games.
Left Back
Alberto Moreno has played a lot of minutes this season but he has not really made an impact when out on the field, his defensive mistakes have hurt the team significantly. He should put in a good performance since he probably wants to impress Rodgers to ensure his spot in the lineup at the start of next season.
Center Midfield
The three man midfield of Jordan Henderson, Lucas Leiva and Joe Allen is the best that Rodgers has and it looks like Steven Gerrard's time out on the field is running out. All three players haven't had a lot of time to play together but they should be able to dominate the weaker West Brom midfield. With Lucas shielding the defense, both Allen and Henderson should be able to influence the game more on the offensive side of the field.
Right Wing
Jordon Ibe did not feature in the last match because he was cup-tied to Derby County so he should get a start this weekend. With Sterling looking more and more likely that he is going to leave the club, Ibe will take on the role as the team's young star. After missing multiple matches because of an injury, Ibe has to prove that he is capable of playing against quality opposition.
Forward
With Sturridge out, Raheem Sterling will have to work with both Coutinho and Ibe to create opportunities. He has struggled at times to find the balance between passing to his teammates and trying to score on his own. Sterling will have to make sure that he stays focused on the match, not whether he stays or not.
Left Wing
Philippe Coutinho has been one of the team's best players this season and he will be essential in making the Reds succeed against West Brom. Along with Henderson, both are the creative hub of the Reds and they should be able to find the holes in the West Brom defense that has conceded 46 goals this season.
(4-5-1)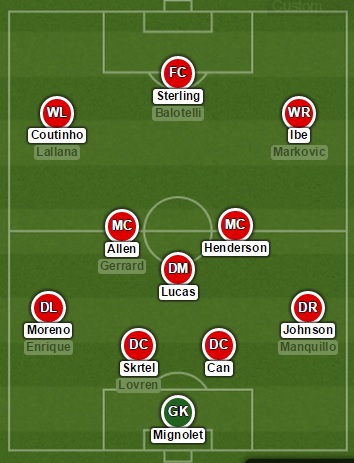 Via – Lineup Builder