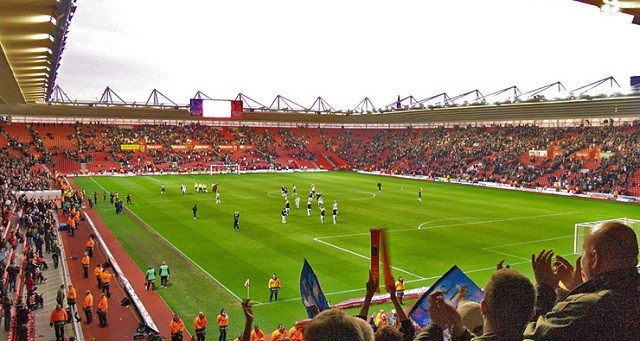 Southampton is coming off an embarrassing and damaging 2-1 loss to Stoke City, but a huge opportunity for the Saints comes this weekend against Tottenham Hotspur. One point behind both Tottenham and Liverpool, Southampton will need a result against Hotspur to have any realistic shot at playing in Europe next season.
Preferred Formation: 4-2-1-3 
Koeman has used this formation before, and I think that having two players up top and a strong midfield could combat the Tottenham attack.
GK: Kelvin Davis
Davis has performed admirably so far in replacing Fraser Forster, and while this shouldn't be a long-term solution (especially thinking about next season), Davis is a capable keeper, but has allowed three goals in his last three matches. He will need to lean on the success of his back four to secure a result.
RB: Nathaniel Clyne
As long as Clyne is a Saint he should be appearing at right back for Southampton, and this week will be no different. His play will be key to stopping Harry Kane have his way with the defense.
RCB: Jose Fonte
The Saints' captain will need to be in top form on Saturday if they are to stand a chance. His continued presence into the midfield, and occasionally the attacking area, is critical for the Saints to remain on the offensive.
LCB: Maya Yoshida
After Toby Alderweireld's injury last week against Stoke, Yoshida will have to pick up the slack this week, and be steadier than usual to fend off a menacing Hotspur attack.
LB: Ryan Bertrand
Bertrand will need to be on his best as well if Southampton want a chance at securing three points, and his continued steady play on the left side is simply a must.
RDM: Morgan Schneiderlin
This game is too important not to have Schneiderlin in this position, as his physical play on both ends of the field is invaluable. He must make his presence known in the midfield for the Saints to have a chance.
LDM: Steven Davis
One of the Saints' most consistent players all season long, Davis will have to play more on the defensive end due to the players available, but his steady play in the middle will be critical in this match.
 CAM: Dusan Tadic
Tadic should play in an attacking position, but not be too far up so that he can't play both ends of the field. Southampton will have to rely on some of their attackers playing quality defense in this match, and Tadic is definitely one of them.
RW: Shane Long
I would put Long up here because, even though he usually appears as a substitute, his spark is something that could be needed right from the beginning for Southampton. He and Pelle up top, along with Sadio Mane, would be very interesting to try, and their best chance for victory.
ST: Graziano Pelle
Pelle will once again be the man up top, and his size should be effective not only on the offensive side, but on the defensive side as well. It will ultimately come down to whether or not the Italian can put the ball in the back of the net and give the Saints another shot at Europe
LW: Sadio Mane
Mane is best at cleaning up around the net, and while Long and Pelle should receive most of the attention, look for Mane to finish something on the opposite side of the field. He will be integral to the Saints' gameplan.
(4-5-1)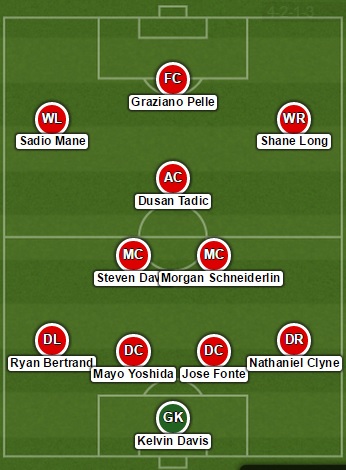 Via – Lineup Builder