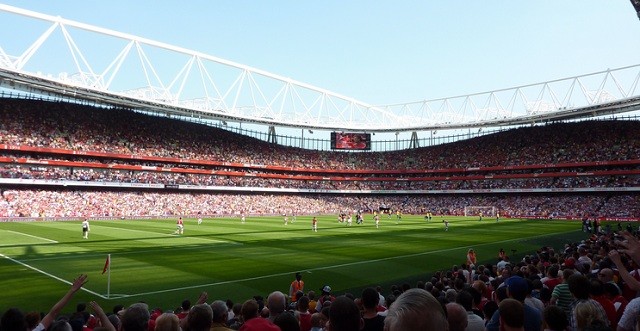 Arsenal face Chelsea at the Emirates Stadium on Sunday in a match that would see the Gunners stay in the title race for another week. A win would bring Arsenal 7 points behind Chelsea with five games to go.
Considering Arsenal's current form, the fact that Arsenal are playing at home, Chelsea's less than stellar performances recently, and Chelsea's lack of healthy strikers, Arsenal seem to be slight favorites. In fact many Gooners would tell you they are confident of a win against Chelsea, a team Arsenal have yet to beat when Jose Mourinho is the manager.
This match has been billed as Arsene Wenger vs. Mourinho, but Wenger was quick to stress that this match is about the 22 players on the pitch, not the two managers.
Chelsea are going to "park the bus", a tactic they used against Manchester United last week at home to great success. Arsenal have been susceptible to this tactic in past seasons and against Monaco this year. Since February though, they have shown discipline and seem better equipped to challenge teams like Chelsea.
The likes of Francis Coquelin and Nacho Monreal will be key to breaking up Chelsea's counter attacks, a key component of the "park the bus" system. Coquelin has done this to great effect all year and will be a key contributor to Arsenal's performance.
There is some debate as to who will play at right back for Arsenal as Wenger will have to choose between the in-form Hector Bellerin and the now fit and experienced Mathieu Debuchy. The fact that Debuchy played the full match against Reading last weekend is telling of Wenger's thinking.
Another area of the pitch where Wenger may tinker is the wide right position where Aaron Ramsey has played the past three matches. Wenger could choose a more attacking lineup with Danny Welbeck or Theo Walcott there, but Wenger's partiality to playing his best available players will likely see Ramsey retain his position.
Some decisions will have to be made at center back as well. Per Mertesacker has yet to train this week and seems unlikely to be fit enough to feature.
This is going to be a one sided affair possession-wise, but should never the less be a cracking match. The additional story of Cesc Fabregas' first return to the Emirates since he left in 2011 adds an extra dimension to this match as well. At least to the build-up of it. Wenger touched on that a bit.
Here is Arsenal's probable starting lineup:
Goalkeeper – Ospina
David Ospina will take his place back in goal after Wojciech Szczesny completed his FA Cup duties. No surprises here and barring an injury, this position shouldn't change much this season. It will be an interesting area to keep on eye this summer though.
Right Back – Debuchy
Debuchy didn't look sharp against Reading and admitted after the game that he is not 100 percent yet. Arsenal missed Bellerin sprinting down the right hand side in attack and his absence exposed the lack of width Arsenal have on the right when Ramsey plays there.
Having said that, Wenger will persist with Debuchy for three reasons. He is more experienced than Bellerin and will go up against Eden Hazard where experience will be needed. Second, Wenger likely played Debuchy the full 120 minutes over the weekend so as to prepare Debuchy for this weekend. Ballerina has been dealing with nagging ankle injuries that Wenger recently revealed so it seems like Bellerin is being afforded an opportunity to heal.
Bellerin has performed excellently and will certainly feature again this season, but experience is especially important for defensive players and Debuchy has the slight upper hand for now.
Center Backs – Gabriel & Koscielny
Mertesacker hasn't trained since he came off against Reading so it's difficult to imagine him playing this match even though Wenger put him at 50/50 to play. If deemed fit on Sunday, he will likely play, as at this stage of the season he might not need the practice to stay sharp. The fact that he hasn't been fit enough to participate though, indicates he won't be fit for Sunday.
Gabriel and Laurent Koscielny have actually played a decent amount together this season and they have performed well together. Gabriel looks a robust, no-nonsense type of defender and Koscielny looks comfortable next to him.
Chelsea would be the toughest opposition that Gabriel has faced with Arsenal but I don't see much fazing him.
Left Back – Monreal
Kieran Gibbs showed last weekend why Monreal has been starting over him since January. Gibbs didn't look sharp or assured while defending or bringing the ball forward. Monreal has looked both those things and will be key, along with Coquelin and Debuchy, in breaking up Chelsea's counter attacks.
Defensive Mid – Coquelin
Coquelin will be relied on to break up Chelsea's counter attacks as they "park the bus". Coquelin has stepped up in big matches and seems to relish this type of occasion.
Center Mid – Cazorla
Santi Cazorla didn't have the best games against Reading and spurned a couple of chances. It was a difficult match in general and Cazorla should be more effective this weekend.
Chelsea will look to force Arsenal to play centrally. This could play to Cazorla's skill set who penetrates through the center of the pitch with his dribbling, quick bursts, and sharp exchanges. I expect to see a couple flashes of brilliance from the Spaniard.
Attacking Mid – Özil
Although Alexis won man of the match against Reading, Mesut Özil was the real star of the day as he dictated the pace of the game and was always trying to get Arsenal going. He looked comfortable and at ease on the ball and regularly tracked back to claim it.
It will be interesting to see how Chelsea play him, if they man mark him, commit two men to him, or swarm him when he has the ball.
Wide Right – Ramsey
Ramsey will again get the start on the right in an effort to fit in Arsenal's best players. This isn't always the greatest tactic but it's also hard to argue that Ramsey doesn't deserve a place in the team.
This selection worked well against Liverpool and less so against Burnley and Reading. But with Chelsea looking to implore Arsenal to play more centrally, this selection could work. Ramsey is a possession type player who as the ability to thrust energy in the midfield and provide dangerous outlet runs both centrally and wide. If he can outwork Chelsea's midfield, he could be very effective in this position.
Wide Left – Alexis
The scorer of Arsenal two goals sending them to their second consecutive FA Cup Final. Chelsea will likely try to kick Alexis off the park like they did last time the two teams met. Alexis is more adept at dealing with it and Arsenal are less dependent on him now.
His flourishing relationship with Özil is exciting and encouraging for the present and the future.
This match also provides an interesting matchup between Alexis and Hazard who were both nominated for PFA Player of the Year. Could either's performance on Sunday possibly sway voting decisions? Probably not.
Striker – Giroud
Arsenal were a much better team with Olivier Giroud on the field against Reading than they were with Welbeck up front for the first 70 minutes. It showed how important Giroud is to the squad, not just from a goal scoring point of view, but also from a ball movement point of view.
Giroud connects Arsena1's offense together with his give-and-goes and aerial ability. He is an excellent outlet as he can hold the ball up on his own and provides a finishing edge to Arsenal's counters. Giroud is also a better target in the box than Welbeck thanks to his aerial ability and positional awareness.
Giroud will need to deal with the physicality of this game and exert himself on Chelsea's two center backs. One thing that the Frenchman could work on his tendency to complain to the ref. He doesn't go down easy but when he does, he doesn't get up quick and tends to look at the ref.
I don't mean to knock on the Frenchman as has been immense for Arsenal this season and his improved considerably. He will be a key figure in this match. His off the ball movement and ability to absorb opponents will allow his teammates a little more freedom in this match.
 (4-5-1)
Via – Lineup Builder