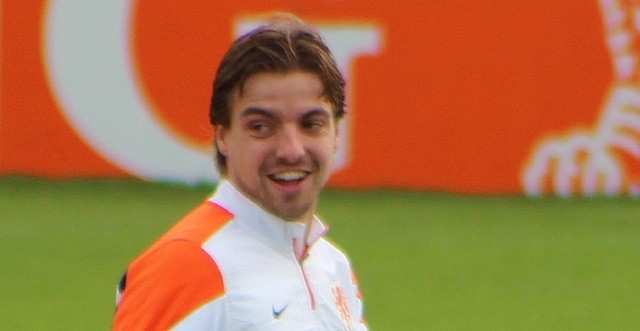 Manchester United's goalkeeper David de Gea has recently posted on Twitter that he was proud to be a Red and that he was proud of the fans. Judging from his words, one might think that he is ready to commit his future to the Red Devils, but things are probably not that simple.
If the Spanish goalie fails to sign a new deal with United until the end of the year, he is free to establish talks with foreign clubs next January and leave for free in the Summer, something that would be a perfect disaster for Manchester United.
The Red Devils should do everything within their reach to convince the man, who has already proven to be good enough to deserve the worship of supporters and that was the most responsible elements for the stability and consistency United managed to achieve during the second half of the present season.
Nevertheless, if David de Gea decides to change venues for the season to come, Manchester United would definitely need to look for a proper replacement elsewhere, since Victor Valdes is far from being up to the challenge.
This being said, let's take a look at three goalkeepers, United should consider in case the Madrid born netminder decides to leave before the start of the next season.
Mattia Perin
Italy is a land of top quality goalkeepers and the young Genoa's goalkeeper isn't any different. After spending two successful seasons on loan at Pescara, Mattia Perin secured his place at Genoa's goal and has kept improving ever since.
At the age of 22, Perin has already been linked with several different teams over the last year and it is not likely that he will remain at Luigi Ferraris for too long. Perin has excellent reflexes and his positioning is already something admirable for someone his age. His improvement rates are notorious and we will certainly hear a lot from him in the future to come.
Although he was not a regular presence in Italy Youth Squads, Perin earned his first cap with the senior team during the friendly match against Albania back in November.
Bernd Leno
Leno is definitely one of the best goalkeepers in Bundesliga and probably even in the Old Continent at the moment. The Bayer Leverkusen's goalie is one of the main culprits for his team's impressive campaign so far this season and for the quality and consistency of their defensive line. Leno is a product of Stuttgart's academy and arrived at Bayer four years ago.
Since his arrival, he has almost instantly become the "owner" of Bayer's goal and has kept improving at an impressive rate one season after the other. Leno is known for his excellent reflexes, as well as for his incredible cold blood in one-on-one situations. The German Youth international has already been linked with some English Premier League teams over the last couple of seasons and he would certainly be a perfect fit for Manchester United, if David de Gea's leaves.
Tim Krul
One might say that the experienced Dutch goalkeeper is already part of Newcastle's furniture, especially if we have in mind that he joined the Magpies back in the Summer of 2005 from ADO Den Haag.
Krul is a top quality goalkeeper and he has been the boss of Newcastle's goal since 2010 and, contrary to the other two goalies mentioned above, he is completely used to the reality of English football and of the Premier League. If United opt for a more experienced doorman in the event of David de Gea's move to Real Madrid or somewhere else, Tim Krul would definitely be a quality choice.