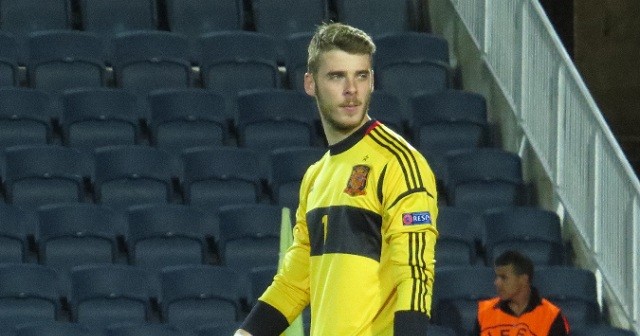 According to The Mirror in the UK, Manchester United players are becoming more and more convinced that goalkeeper David De Gea is leaving in the summer.
It looks as though De Gea, who has been a standout player for United all season long, with some vital saves to rescue points, is determined to leave Old Trafford and go back to Spain and join Real Madrid.
Currently De Gea has one more year on his contract and has constantly rejected extension talks with the Red Devils, making the rumor more likely to occur. Real Madrid are obviously looking to for a top quality goalkeeper as Iker Casillas has struggled to regain his form.
It looks as though United's worst fears may be coming true with De Gea wanting to part ways, so United may need to cash in now. According to the Mirror, United will want somewhere in the region of 50 million pounds for him. Another possible idea is that United swap De Gea plus cash for Real Madrid's Gareth Bale, who has yet to find his Tottenham form at the Santiago Bernabeu.
A possible reason why De Gea wants to move back to Madrid, this time to Los Blancos, is because his girlfriend is a singer and presenter in Madrid.
I have seen Manchester United on many occasions this season and De Gea has been outstanding throughout the campaign. Early on in the season, United were grinding out results and not playing great and De Gea made crucial saves to keep his side in it.
The 24-year-old keeper is one of the best in the world, hands down. In my opinion, he is right up there with Thibaut Courtois and Manuel Neuer as he can do it all.
If United lose their star goalie this summer, they are going to need to use the money wisely in reinvesting. It would be a huge blow to the club as they prepare to return to the Champions League after a year hiatus.
United do have former Barcelona keeper Victor Valdes as their backup and he can fill in as the No. 1 if need be. United could go and try and tempt Chelsea to sell Petr Cech to them, although that seems unlikely at the moment.
Either way, if United lose the services of David De Gea, it will be a huge loss to the squad in their fight to get back into the elite of European football. If De Gea wants to leave, United should sell now and get top dollar for him rather than letting him walk as a free agent in just over a year's time.
https://www.youtube.com/watch?v=a-sxZ5Bs0FA