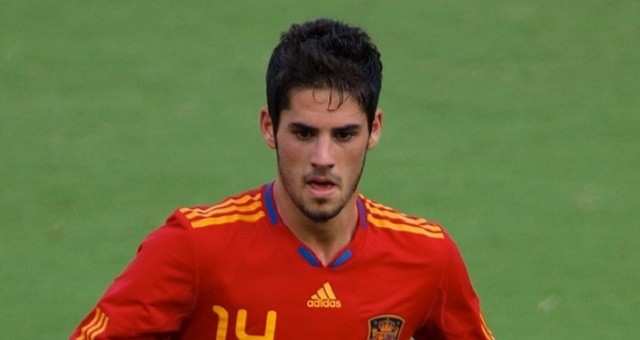 As the 2014-2015 season is nearing the end and the summer transfer window right around the corner, teams are beginning to lineup bids and clauses for players. Real Madrid are said to be shopping out of favor midfielder Isco this summer, Arsenal being a possible suitor.
After being heralded early in the season in Madrid, Isco has found the bench more and more frequently since the return of Luca Modric and James Rodriguez. Real has also hinted they would offload the 22 year old in order to aid the acquisition of Paul Pogba from Juventus or Marco Veratti from PSG. Arsene Wenger, rumored to be keen on the Spaniard in the past, could see this as his opportunity to nab the young midfielder.
To have Isco at Arsenal though, would seem to put him in a similar situation that he is in now. Arsenal have a surplus of World class midfielders and although Isco is very good, so is Mesut Oezil, Alexis Sanchez, Santi Cazorla, Aaron Ramsey, Theo Walcott, Alex Oxlade-Chamberlain, and Jack Wilshere.
This move seems unlikely for more reasons than that though. With Luca Modric again being injured and out for an extended period of time, Isco will most likely see the starting eleven for the remainder of the season.
Also, there is no guarantee Madrid could land their desired targets this summer. Pogba and Veratti both play deeper roles, something that Isco can play, but isn't desired. Certainly Madrid would not prefer to sell away a budding talent at only 22 years old either.
Wenger would be wise to spend his money on a defensive player or a play-making winger/forward like Marco Reus from floundering Borussia Dortmund. With Arsenal in such great form in 2015, the midfield is to thank. With the fantastic seasons Alexis, Oezil, and Cazorla are putting forth, their spots in the future 11 are all but solidified. Arsenal are just one or two key moves away from winning the Premier League. Next season will be one for the Gunners.