Arsenal and Reading will face off in the first FA Cup semi-final clash of the weekend.
Arsenal find themselves in familiar territory having won the cup last year, and beating a lower league opponent in the semi-finals. Arsenal will look to avoid a repeat of last year though, having come 8-minutes away from losing the tie to Wigan, only for Per Mertesacker to save the day with a late headed equalizer. Arsenal would go on to win the game on penalties.
Reading meanwhile, currently lie 18th in the Championship and haven't been this far in the cup in 88-years. This means nothing to Reading manager Steve Clarke who was in buoyant mood and insisted he did not misspeak when discussing "when" his side beat Arsenal.
Arsenal, in spite of their excellent form, will not take this match for granted, having learnt their lesson in last year's semi-final. This will reflect in the lineup that Arsene Wenger opts for, where he will make 3 or 4 changes at the most.
We already know that Wojciech Szczesny will start in goal but that's about as much as Wenger would concede. Considering he won't want to tinker too much with his squad, only a handful of players have a chance of coming in.
Jack Wilshere is certain to feature on the bench and we know that Mikel Arteta and Alex Oxlade-Chamberlain are not quite fit for this weekend. That leaves Gabriel, Theo Walcott, Kieran Gibbs, Mathieu Debuchy and Danny Welbeck as the most likely candidates to start in place of others ahead of them in the pecking order. Of those five, only three are likely to start.
Here is Arsenal's probable starting lineup:
Goalkeeper – Szczesny
Wenger already said he would play, he's the cup goalie. He will want to put in as many good performances as possible to get himself back into contention for the no. 1 position when next season starts.
Right Back – Debuchy
This seems like a good opportunity to give Debuchy game time, with very little drop off in quality between him and Hector Bellerin. This is the type of rotation we will likely see Wenger employ, players coming in for each other who need games but still represent formidable quality. Arsenal are not taking Reading for granted.
Center Backs – Mertesacker & Koscielny
Gabriel will be considered here but in the end the two first choice center backs should play. I think this comes down to experience, which both Laurent Koscielny and Per Mertesacker have. Additionally Gabriel has not played with Debuchy yet and communication could be an issue. Wenger should play it safe here.
Left Back – Gibbs
Like the right back position, this is a good opportunity to give Gibbs a game and not sacrifice quality either.
Defensive Mid – Coquelin
With Arteta ruled out, any chance of Francis Coquelin not playing has gone out the window. This is good for Arsenal because Coquelin is the better player right now and has an important role to play in this match. He will be looking to break up Reading's counter attacks, something he has done to most team all season.
Center Mid – Cazorla
It wouldn't be surprising to see Santi Cazorla sit this one out and have Aaron Ramsey play in the middle. This would mean Walcott or Welbeck would play out wide. In the end Wenger will stick with midfield continuity, especially considering Arsenal have 8 days until their next match after this one and there is no need to rest anyone. I expect Cazorla to dominant this match.
Attacking Mid – Özil
Like Cazorla, it makes sense for Mesut Öziil to play because of continuity and the winning formula that this midfield has shown. He has been excellent and should relish the opportunity to perform at Wembley again.
Wide Right – Ramsey
No need to rotate here either. Ramsey looked better against Liverpool than he did against Burnley but Wenger likes to stick with winning lineups.
Walcott could make a case to start but the smart money is on him not starting. I wouldn't be surprised if Walcott did start though, he is a quality player and Wenger spoke highly of him in his press conference.
Wide Left – Alexis
Alexis has looked sharper since the international break. Considering his passion for the game, I can't imagine how excited he must be to play his first semi-final match for Arsenal and his first match at Wembley. He will give 200% in this one.
Striker – Welbeck
Olivier Giroud is in good form but Welbeck started Arsenal's last FA Cup match and Wenger likes to rotate his strikers in this competition. If you remember last year, Yaya Sanogo started Arsenal's semi-final tie against Wigan and he came on and had a huge impact in the final. Its likely Wenger employs a similar tactic and gives his second choice striker a chance.
Like the full back positions, this seems like a logical rotation to make with very little drop off in quality. Welbeck never won the FA Cup with Manchester United so he has a different reason for wanting to win it compared to his teammates.
(4-5-1)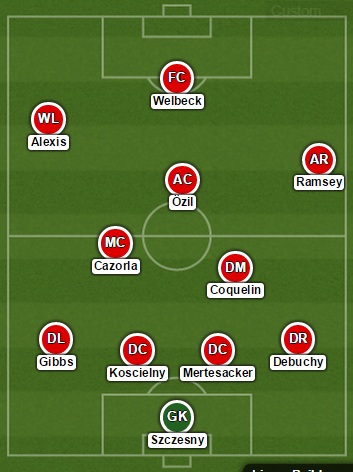 Via – Lineup Builder