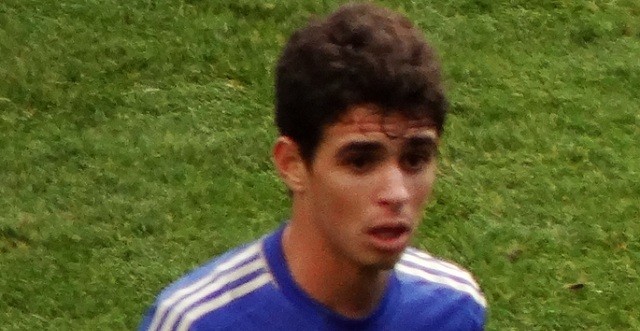 It is probably not a new thing, the fact that José Mourinho has not been completely impressed with Oscar's work rate and if we add that to his recent less thrilling performances, one can easily understand why the media claim that the Brazilian creative midfielder will be placed on the Blues' transfer list at the end of the current season.
Recent media reports from both the English and the Brazilian media suggest that Oscar will not be part of Chelsea's setup for the season to come and that there already several European big teams interested in his services.
The current Italian champions, Juventus, are allegedly leading the race for the Brazilian playmaker but the amount Chelsea are hoping to receive from his move might prove to be an obstacle against his transfer to Serie A.
The Blues have paid somewhat around £19.35 million for Oscar back in 2012 and they will surely want to make some profit with him, but the financial problems that some of the European football powerhouses are currently going through may force Chelsea to lower their expectations regarding the amount they want to receive for the player.
In a recent interview, the Brazilian National Team manager Dunga have praised Oscar and advised Juventus to present a bid for him. The former Brazil's captain even took it a step further by comparing the former Internacional's player to the iconic Italian number 10, Roberto Baggio, as he praised Oscar for his amazing technique skills, for his vision and for his intelligence on the pitch.
Dunga have also claimed that the Brazilian players like to have fun with their football and that such thing is not happening with the São Paulo's born player at the moment in Stamford Bridge, regardless of the compliments Mourinho has made to his Brazilian footballers.
Despite of Oscar's immense quality, it is probably a bit farfetched to compare him to Il Divin Codino, but Dunga's opted for acting as a players' agent for a while and he has probably caught up in the heat of the moment.
Oscar is, let's be honest, a splendid footballer, especially when he has the ball on his feet, although every time he is requested to help his team on their defensive processes, he tends to fail to meet expectations. Such lack of defensive commitment simply doesn't work with José Mourinho, as the Portuguese manager tends to be very demanding when it comes to his players' work rate.
Mourinho has already openly criticized Oscar in the past and he will probably not think twice when the opportunity to axe him comes, since this would enable him to bring in an equally talented player but with a fairly more impressive work rate than the Brazilian golden boy.
https://www.youtube.com/watch?v=Tf2sD6F2s4E