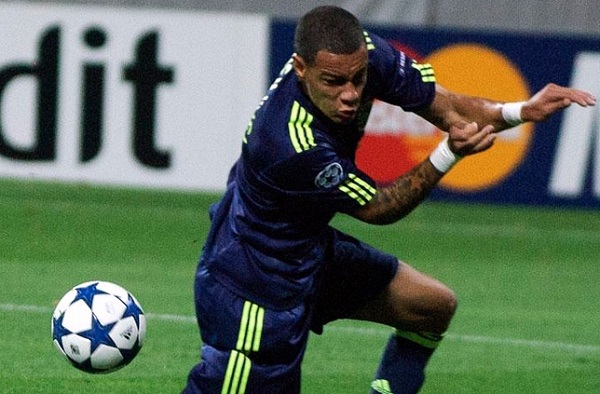 According to The Metro, Manchester United are keeping tabs on Paris Saint Germain's right back, Gregory van der Wiel.
According to the newspaper, PSG are looking to offload the Netherlands international right back in the summer and have already made a shortlist of replacements. United are keeping a close eye on the 27-year-old fullback, as he is valued in the region of 9 million pounds.
I was very high on van der Wiel a few seasons back before he made the big move to PSG, but he has struggled at times to live up to his full potential. Van der Wiel brings ridiculous pace going forward and loves to get up and down in the wide areas where he can whip in crosses.
United have defensive frailties and Valencia has been playing at that right back position, although he is more of a winger. Van der Wiel loves to get forward but when he is one on one in defense, he likes to slide in and make tackles and takes too many chances.
It is no surprise that United are interested in the Dutch fullback, as Louis van Gaal knows him well from his time as the Holland boss. To be fair, United are fragile at the back in defense and need some serious depth in that area of the park.
If van der Wiel comes to Old Trafford next season, he would bring a lot of similar qualities that Valencia possesses. United still have Rafael but it seems as though his days are numbered at the club. Van der Wiel has pace and the ability to send in dangerous crosses but does not look as if he is a good enough defender.
I do not think this would be a good signing for United as van der Wiel does not defend well and that is not what the Red Devils need at this moment in time. United have an array of attacking talent at their disposal but are vulnerable every time they are defending.
Van der Wiel is valued at 9 million pounds, which to be fair in today's market, is not very much. I think van der Wiel can be a good addition to the depth of the squad but I think he is not the sort of quality they need as they prepare to return to the Champions League next season.
Van der Wiel should not be United's first or even second choice, but if they fail to sign other right backs, van der Wiel, for the price, could be worth it. Maybe Louis van Gaal can get van der Wiel to defend better and get the best out of the 27-year-old.