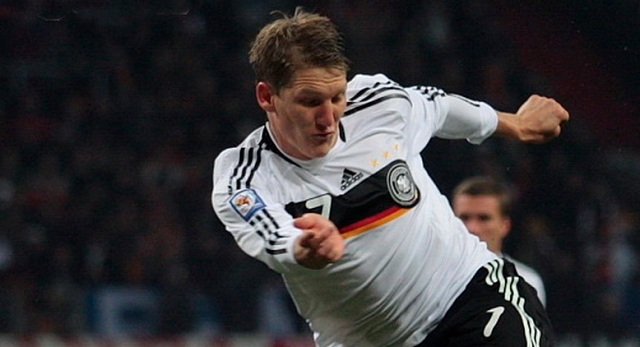 Manchester United have been informed that Bayern Munich duo, Bastian Schweinsteiger and Robert Lewandowski could be available, according to the Daily Star.
Schweinsteiger is not an automatic selection on the Bundesliga champions squad and could be lured to join United for more consistent playing time. According to the Daily Star and the Mirror, Schweinsteiger could be available for around 10 million pounds.
Lewandowski is another player that intrigues United. United need strengthening up top in the forward area and Lewandowski is a world class striker.
Bayern Munich have one of the best quads in the world as far as depth is concerned and if they get a legitimate offer for the pair, they could be inclined to sell and re-invest the transfer money somewhere else.
Schweinsteiger is a German international and was an integral part in the side that took home the World Cup trophy last summer in South America. He brings experience and quality and is still only 30 years of age.
If Schweinsteiger does make the move to England, he would be a great signing for United. He can play in various positions and as we have seen this season, Van Gaal is not afraid to tweak with players and formations from game to game.
Schweinsteiger could play in a deeper role, where he could play a similar style to that of Cesc Fabregas for Chelsea. If he plays further back, he could utilize his ability to pick out a pass while also being able to keep possession. Schweinsteiger has been one of the best midfielders over the past few years and is in the prime of his career.
As much as Schweinsteiger would be a good signing for United, Lewandowski is the more needed of the pair. As we have seen this season, Rooney had been operating in a deeper role, where he was able to pick out passes and make Lampard type runs to the edge of the box. But with recent injuries, Van Gaal moved Rooney back to the striking role and he has done well.
With Van Persie aging and a history of injuries, plus the struggles of loanee, Radamel Falcao, Lewandowski is the exact type of player that they could use for next season. They could sell Van Persie while letting Falcao return to Monaco and buy one of the best strikers in the world.
If United signed Lewandowski, it would be interesting to see how he would fit into the squad. He is used to playing as a lone striker and he could play there, while Rooney could slot in behind in that number 10 role, where he could create while also supporting Lewandowski in attack.
There is no doubt that these players would help United and if the Red Devils signed them, I would give it a 9/10 as far as helping the team. I think it will have to be a pretty serious transfer fee to see Bayern Munich let go of two of their better players, so at this moment in time, the transfers look unlikely.
https://www.youtube.com/watch?v=NNsnmPVZrNc