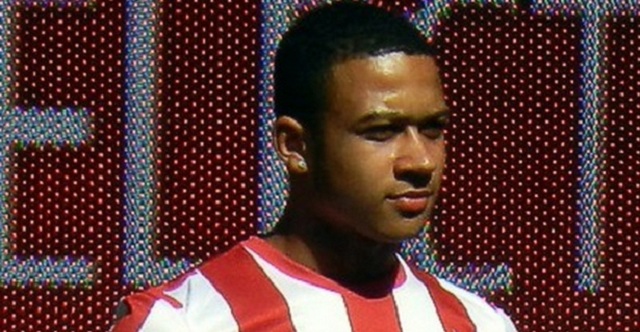 Manchester United are in talks with PSV Eindhoven in hopes to sign Dutch international winger, Memphis Depay according to the Mirror.
Twenty-one year old Depay, is also being watched by Liverpool as well as other big clubs around the world. Depay, who was an integral part of the Dutch side that excelled at the World Cup in Brazil last summer, is well known by former Holland manager, Louis Van Gaal.
It looks as though United are willing to meet PSV's asking price of 25 million pounds and bring him to Old Trafford in the summer. According to the Mirror in England, Liverpool are quite interested in the speedy winger but are only prepared to go 20 million pounds for his services.
Depay is one of the quickest players in world football and has the ability to beat any defender in a wide area. I saw him at the World Cup and he played well, whether it was as a substitute or when he started. He brought world class speed to the Holland side and was a threat every time he had the ball in counter situations.
If he does make his way to Old Trafford in the summer, he will be a great addition to the Red Devils. Although Manchester United is on fire at the moment, there are still serious doubts about their squad especially since they are almost certain of returning to the Champions League next season.
With Depay, Manchester United would have the luxury of playing him in a wide area and being able to use his genuine pace. At the moment, United use Ashley Young and Juan Mata in the wide areas of the pitch.
Depay is still quite young but there is no doubt he is very talented. Depay can also play through the middle if need be and can play more of a playmaker role, although that is not his best position. Di Maria is struggling to make the starting eleven at the moment but he and Depay could play in the wide areas and be a serious handful for opposing fullbacks.
If United do secure a Champions League place for next season, look for the Red Devils to go on another spending spree this summer to improve the depth and quality amongst the squad.
I think this transfer looks pretty close to being a done deal as Depay has a good relationship with Louis Van Gaal. If United sign Depay, I would give it an 8/10 as far as helping the squad. United need a true winger with world class speed and skill and Depay fits the bill.
https://www.youtube.com/watch?v=fTfYhKCBLLI