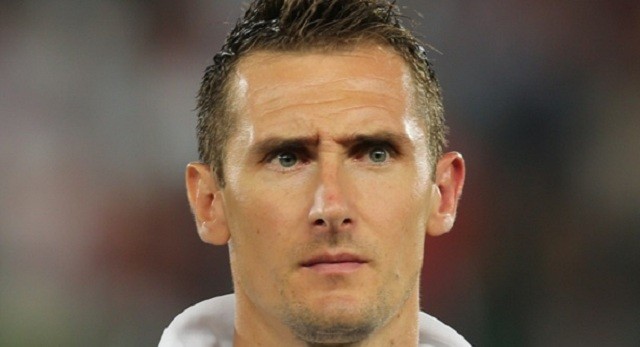 According to a report originally published in La Gazette dello Sport (cited by Sambafoot), Miroslav Klose could be headed to Brazilian side São Paulo when his contract with Italian club Lazio is up this June. The Italian newspaper reports that the Brazilian side could be ready to make an offer for Klose, one of the best goal scorers of his generation.
Klose, 36, has scored the most goals in World Cup history with 16. This season with Lazio, Klose has scored 13 goals in 32 appearances. With his contract set to expire in June, Klose is free to assess his options and determine where he would like to play next. Reports have also linked Klose with a return to the German Bundesliga, as well as a possible move to the United States to play in MLS.
According to media reports, negotiations between Klose and Lazio on a new contract have stalled, making it highly likely that the German will move on this June.
While a move to Brazil for Klose would certainly be surprising, it also would make sense. While many of Brazil's clubs are struggling financially, there is still undoubtedly a large amount of money among sponsors in the country, and a passion for the game unmatched around the world. Klose would be able to make a decent salary, and add on top of that a number of sponsorship opportunities that perhaps wouldn't be possible should he choose to return to Germany.
For São Paulo, this move would also make sense. Striker Alan Kardec was just lost for 6 months due to a knee injury. With rumors swirling that Luis Fabiano could be joining Kaká in the MLS with Orlando City, São Paulo could absolutely use another striker to pair with Alexandre Pato, especially one as great a goal scorer as Klose.