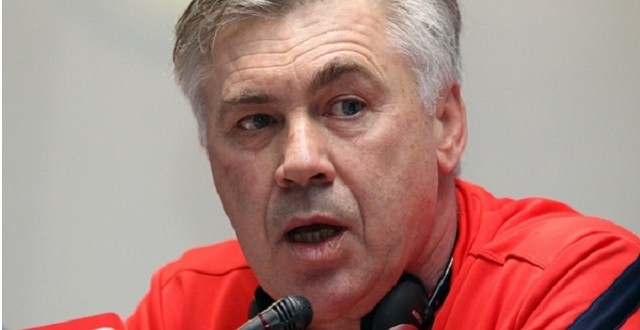 This year's most repeated duel in Spanish football will reach its final chapter, as Real Madrid and Atlético Madrid fight for a semi-final spot in the Champions League. Los Blancos will visit the Vicente Calderón with the ghost of February's 4-0 crushing defeat. Looking to win their first game against their city rivals, the team needs to prove to everyone they can beat the roughest teams out there.
Preferred Formation: 4-3-3/4-4-2
Carlo Ancelotti won't be revealing his cards until the game starts. However, he knows his reputation has been damaged by Atlético this entire season. It's up to him to finally shape the right tactics and lineup to stop Cholo Simeone from shining once again. His "Isco and James can play together" may indicate one member of the BBC will be benched. Having that fourth faux midfielder could be key in controlling that zone.
GK: Iker Casillas
The captain was benched on Saturday and will come back on Tuesday. There are rumors that he won't play the second leg at home. Nevertheless, a good performance in the first one might change that.
RB: Dani Carvajal
Also coming from a weekend off, he should be worried that Arbeloa is the second defender with the most assists behind Marcelo. There's no doubt he'll start this one, yet he should be careful as his competitor has played all but one of the UCL matches.
CB: Pepe
He played some minutes against Eibar and is ready to play regularly again. Marking Mandžukić and Griezmann can be decisive, as both attackers can easily make Casillas' night a bitter one.
CB: Sergio Ramos
His longtime partner is back after a short absence. The combination of their strength and maturity is a plus, but they need to avoid making the same mistakes that cost them six points in La Liga, the Copa del Rey elimination and the Spanish Super Cup.
LB: Marcelo
Praised by many for his recent solid showings, the true big test is this quarter-final round. Coentrão's continuous physical problems give the Brazilian the chance to play both legs from the start.
RCM: Luka Modrić
The Croatian is a big part of the team's improvement, offering the ability to penetrate a defense and clinical passes. The rival defense is smart and experienced, so his talent can be an asset.
CM: Toni Kroos
That weekend suspension granted him a good rest before these upcoming demanding fixtures. He still doesn't know what beating Atlético feels like, making this the ideal moment to deliver his best football.
LCM: Isco
He'll be given an important role, since overpowering Atleti's midfielders may be the secret to reaching the semi-finals. Keeping the ball possession and passing at the right time needs to be the team's biggest strength.
RW: James Rodríguez
If the coach spoke about the possibility of Isco and the Colombian playing together, we'll assume he's ready to use four midfielders again. Like he did previously this season, James will take Bale's spot.
ST: Karim Benzema
It was shocking to see Chicharito take his spot from the start on Saturday. The Mexican played a good game, yet this won't be enough to win a spot for the upcoming game. Karim needs to distract the rival defense.
LW: Cristiano Ronaldo
Performing at a level we hadn't seen in 2015, it seems he's back for good and at the right time. This might be a defining factor as Ronaldo's been usually MIA when he plays the Colchoneros.
(4-3-3)