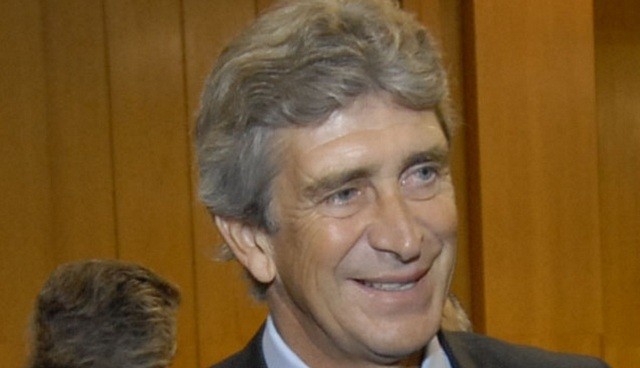 This Manchester derby is setting up to be a classic. Neither side has minced any words leading up to the Sunday clash. It should come as no surprise that the two sides will feel desperate to win this fixture. Not only is a battle for city dominance, but the animosity between the two clubs is evident.
Both have been extremely successful in recent years. United and City have exchanged the last four Premier League titles with City winning last. While neither look likely to keep the trophy in Manchester, this could be a telling fixture for both sides going forward. There is a feeling that both sides will be heavily involved in the transfer market as both clubs have been linked to some big names.
Who will Pellegrini trust with the task of getting a result in a tough away fixture against England's most successful club?
Goalkeeper
Barring a catastrophe, Joe Hart will once again start for Manchester City. Hart has enjoyed a good run of form although the team certainly cannot say the same. City will look for Hart to be stellar once again to keep United out of the back of the net even if the defense collapses.
Defenders
Kompany looks a doubt with a hamstring injury, but should he defy the odds and prove to be fit for the fixture, he will certainly be the first defender selected by the Chilean manager. This leaves Mangala and Demichelis to start in the center of defense as even Boyata is injured for City.
Zabaleta has been tested in games such as these, and it would be a surprise to see the Argentine not to get the nod. Clichy has also performed in matches when tensions are high and emotions are raw, so expect to see the former Arsenal man start on the other side of the defense.
Midfielders
A Toure and Fernandinho pairing seems to be a popular choice for Pellegrini, and the two are the most likely to start here. Toure has scored some remarkable goals for City through the years, and he may have to rise to the occasion again. City lack options going forward because of injury. While Dzeko and Aguero both have shown they are more than capable scorers, United possess a good defensive record and help may be needed to break them down.
That help could also come from Silva or Nasri, both of whom will be desperate to make an impression on the game. Nasri has been linked in a potential trade for Paul Pogba, so if the Frenchman has aspirations to continue his career at City, a strong finish to the season will be vital. Nasri and Silva both have the creative cutting edge that will be necessary team to break down a team who is in form.
Attack
With Jovetic a doubt and Bony a definite out, Dzeko and Aguero look poised to start the match for City, and due to these injury limitations, probably finish it. While the madman Balotelli is long gone but not forgotten, at least in the hearts of City fans, and won't be the one to open up the scoring, Aguero and Dzeko will surely be up to the task.
Aguero brings a passion to the game that could inspire even the most jaded of fans, and Dzeko's timely header, in what seems like a lifetime ago, paved the way for Aguero's dramatic winner to clinch the league title for Manchester City. The past is history, and the two strikers will be anxious to write a new story in the Manchester derby.
(4-5-1)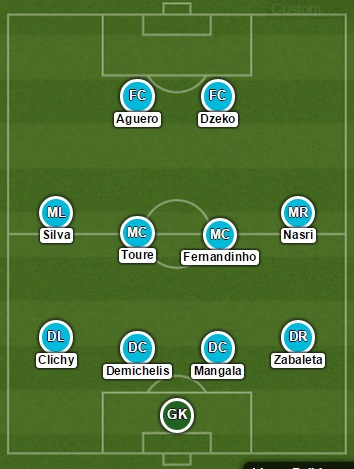 Via – Lineup Builder