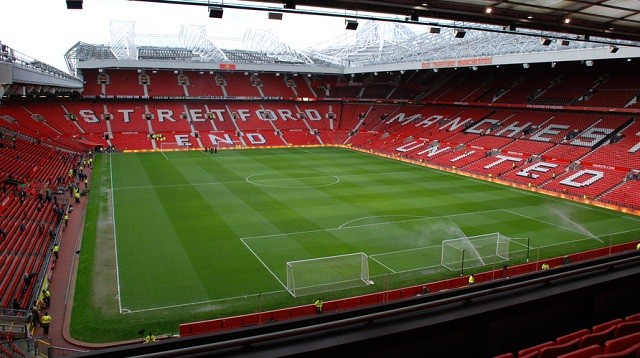 The Manchester derby has become an increasingly important fixture in deciding which way the league goes. In the past four years, each Manchester club has captured two titles. Although that trend seems likely to not continue, let's take a look back at some of the defining goals of the rivalry in recent years.
Number 5
Yaya Toure starts off the list. Remember when he pounced on a United error in the FA Cup in 2011? Yeah, he does too. This goal was enough to lift City over United 1-0 en route to their first trophy in a really, really long time.
The goal and eventual victory represented a turning point for City when they truly became more than just a noisy neighbor. With cup success and a Champions League berth, Manchester City showed that they were a force to be reckoned with.
Number 4
Kompany's header over Chris Smalling to give City another 1-0 victory in 2012 was crucial. Without this goal, there is no dramatic ending to the season. Without taking six points off United, there would have been little question as to who would win the league. If the script had been flipped and United won both fixtures, a double digit gap emerges.
Right on the edge of the six yard box, Kompany rose above Smalling and headed the ball into the back of the net. With the following celebration, it became evident just how much the goal meant to the City skipper. 1-0 to the Sky Blues, a victory that would be required to win the league.
Number 3
Michael Owen broke the heart of anyone remotely affiliated with Manchester City September 20, 2009. Craig Bellamy had equalized in stoppage time off a Rio Ferdinand error near midfield. The game looked done and dusted until Michael Owen scored after the allotted amount of stoppage time.
To score with the last kick of the game to send your side up 4-3 over local rivals must be a feeling like no other. It was an incredible end to a fantastic match that had been played at the highest intensity for ninety (and then some) minutes.
Number 2
https://www.youtube.com/watch?v=VjWfcIr8JO4&spfreload=10
Wayne Rooney claims the most spectacular goal in recent derby history. In April of 2011, Rooney won the derby for the Red Devils with just over ten minutes to play. Zabaleta backed off Nani who was allowed to get in a cross to Rooney, whose effort left Joe Hart rooted to the ground.
It's hard to script a more perfect way to win the derby. If this were shown in a movie, it probably would come across as over-the-top cheesiness. That's why it's important to actually watch the sport, because the remarkable truly does happen and Rooney brought a little bit of magic to the world in that one moment.
Number  1
https://www.youtube.com/watch?v=vcU3aRndnjI
It truly was a "seismic day in English football." October 23, 2011, will forever live in the hearts and minds of both City and United fans. This was the season the so called noisy neighbors rose to the top and won the league. That wouldn't have happened with such an emphatic victory, because goal difference is what eventually won City the league. With a smaller victory, say 2-1, the goal difference would have been level if everything else played out the same way. With that knowledge, United would have certainly pressed for more than a 1-0 victory over Sunderland on the final day and who knows what might have happened.
Balotelli opened up the scoring and displayed the iconic "Why Always Me?" shirt. The game had been played tightly up unto that point, and the opener was a much needed goal for City, who began to grow more and more into the game. Balotelli struck again off a cross before Aguero added a third. When the game looked to be getting out of hand, Darren Fletcher scored a peach of a goal, and United, especially under Sir Alex, are a team to never count out.
In stoppage time it all fell apart for Manchester United. Three goals in the blink of an eye capped off a remarkable performance. Perhaps this was summed up best by Dzeko, who had come on and after scoring had trouble remembering just how many City had put into the back of the United net. How many was it, Edin?