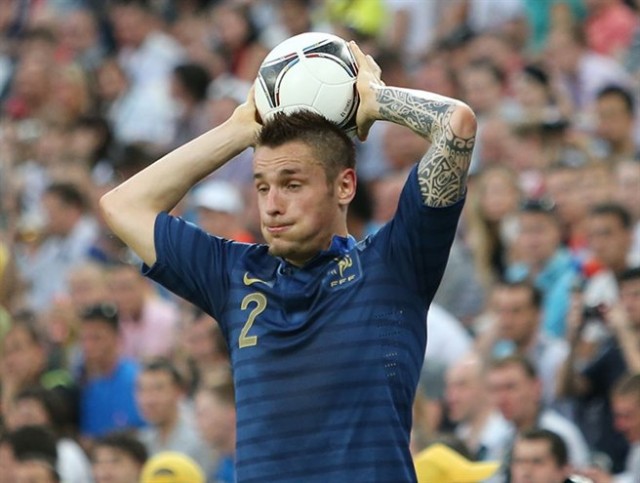 After being signed from Newcastle United last year, Mathieu Debuchy has had an unfortunate start to his Arsenal career. When healthy, Debuchy has performed very well, but staying on the field has been a problem for the Frenchman. After missing a large chunk of 2014, Debuchy was poised to comeback for a strong 2015, to regain his starting role, and end the season on a high note. He resumed his tenure at right back in January, but was left 'embarrassed' and 'destroyed' after injuring his shoulder against Stoke.
Another lengthy return from injury has surely been discouraging, but Debuchy is again fit and looking to make his first appearance for Arsenal in almost three months. After being in training for a few weeks now and a near inclusion to the squad against Burnley, it seems he is close to his second and hopefully final return. In lieu of Debuchy's injury spells though, youngsters Calum Chambers and Hector Bellerin have really impressed. Bellerin in particular has been exceptional as of late, and could give Debuchy stiff competition for his starting role.
Since January, Bellerin has started nearly every game for the Gunners at right back, and has performed tremendously considering his age and the stage. Bellerin possesses great quality moving the ball forward and now goal scoring, which is something that Debuchy is no slouch at either. Bellerin though has the type of pace though to be able to recover from such high positions, where Debuchy seemed to sometimes get caught up.
When simply and standardly defending, Debuchy is outstanding. He was brought in to replace long time right back Bacary Sagna, and in fact starts ahead of him on the French national team. He is an experienced veteran who should hold a significant edge on Bellerin in terms of Premier League defending and comfortablility. Bellerin is continuing to prove that wrong though, as stats suggest (squawka) he is similar or even better than Debuchy in many areas pertaining to playing right back in Arsenal's system.
As a player of much more experience, you would expect Debuchy to lead the young Spaniard in most if not all categories. It becomes apparent that this experience carries onto the field in terms of sound defending, but that is not always what Arsenal needs in the right full-back position. Bellerin holds advantages in categories such as interceptions, successful take ons, chances created, key passes, and pass completion, while Debuchy holds an advantage in tackles won, blocks, and clearances. It is worth noting that in categories Bellerin leads he holds a significant advantage, as opposed to the slight ones held by Debuchy.
There was a perfect example of this disparity between the two last Sunday against Liverpool where Bellerin very efficiently joined the attack with a great first goal, but was also a bit naive in his challenge against Raheem Sterling, which resulted in a penalty and questionably a sending off. Debuchy arguably wouldn't have scored that first goal, but also wouldn't have given up the penalty either.
What this could mean is that Debuchy is the man for now, but it is only a matter of time before Bellerin comes knocking for the spot. Arsenal are known to play in a system of intricate passes and technique, something the stats show Bellerin is superior in. One other characteristic of Hector is that he has blistering pace, recently breaking Theo Walcott's 40 yard time record at the club. He has the ability to fly down the right wing and cause opposing defenses all sorts of fits, as well as being able to recover with relative ease. It is a very important underlying factor to Bellerin's rise.
Converted from a winger, the Spaniard has seemed to reward himself and coaches following an uncertain move from Barcelona in 2011. After a year on loan at Watford in the Championship, the 19 year old has broken into the first team and looks to be an intricate part of Arsenal's future. Arsene Wenger has to be careful to allow Debuchy back, as he is the more seasoned defender now, and more importantly to give Bellerin a rest.
Calum Chambers was run into the ground in the first half of the season during Debuchy's first injury spell, and his performances suffered because of his lack of rest. Wenger would be wise to not let the same happen to Bellerin.
Either way you look at it, Arsenal are looking very solid at right back for the foreseeable future. A year removed from post-Sagna worry, Gunners are not looking back now. With Debuchy, Bellerin, and Chambers all on the immediate squad, as well as Carl Jenkinson out on loan, Arsenal have what people would call a 'good problem' in selecting a starter. All now with significant Premier League experience and talent, Arsene Wenger will have to break hearts when selecting from all healthy candidates. For now, Bellerin would seem to be the one who will suffer, although his future with Arsenal is very, very bright.