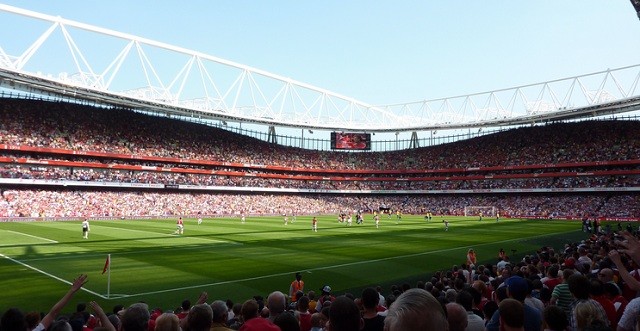 Surely not. It's too late. It's not possible for Arsenal to go and win the BPL at this stage of the season, right? Or is it?
This persistent question has consumed my thoughts. This feeling that all Gooners are experiencing is one that they've not felt in years. Hope. What a terrible feeling. It builds people's expectations up to an unrealistic standard. Of course, when Arsenal ultimately ends up in 4th — their favorite position — it will demoralize and damage all Arsenal fans. Look at Liverpool fans. Last season they were ever so close to the title before a painful slip-up to Chelsea — Gerrard, heh heh, gets me every time — and a shock tie to Crystal Palace, lost them a golden chance to claim their 1st ever BPL title. That damage made Scousers believe that this year they would reclaim former glories, despite the sale of their sole world-class player (Luis Suarez). Ah, those poor, deluded fans.
Would it better for Arsenal fans if their side had simply solidified their Champions League spot instead of giving them false hope? I think so. Such a situation will lessen the trauma when the inevitable happens: 4th place, and needing a goal on the final day of the season to secure Champions League football.
It's surprising how these usually pessimistic Arsenal fans, fans who are always complaining about their clubs failings, are suddenly believers. They seem to be oblivious to the fact that they still need Chelsea to drop 10 points (assuming Chelsea beats Leicester in their game in hand), something that will never happen to the Blues under Mourinho. He will play all 11 players behind the ball — usually he only plays 10, as he does encourage attacking play — and defend so deep, hoping to score a goal off a set-piece, to win 1-0. Therefore, it doesn't matter if Arsenal wins all their remaining games, as they still depend on Chelsea to drop some points.
Then again, could it really happen? What if Manchester United, in form right now, defeat Chelsea? Imagine then what will happen when Chelsea takes their malaise into the Arsenal game, allowing for the Gooners swat aside a Chelsea side low on confidence. Chelsea would then face Crystal Palace, a side that is well-known for defeating the big clubs, and lose, in a game forever remembered as Crystanbul II. Following that game, Chelsea would face Liverpool at home. A game between two self-proclaimed tactical geniuses, master vs apprentice. Then, what if Balotelli scores in the 95th minute? Such an incident will allow for Liverpool to do to Chelsea what Chelsea did to them just a year prior, end all title aspirations.
Of course, Arsenal would still have to beat their opposition, in order to catch the +7 goal difference that Chelsea has on them. They too would have to play Manchester United, and perhaps even worse, Sunderland. On the second to last gameweek of the season, Sunderland would do everything within their power to not go down. That'll be a test of Arsenal's mental strength.
Arsenal has also managed to get their season dip in form out of the way early this year, by dropping points in the fall. Now with that slip-up — I'm sorry, it's too good — out of the way, Arsenal could pickup all the points they need. Often, in a season, Arsenal will go through periods where they drop an obscene amount of points, as well as runs where they are Invincible. With the poor form out of the way, Arsenal are on course to win as many games as possible.
Finally, the main reason that I think Arsenal could go all the way is because Abou Diaby is back. Is it a coincidence that Abou Diaby is suddenly injury-free just when Arsenal are making a late season charge? I believe that this is his moment. This is his purpose, his chance that will make him an Arsenal legend. Then again, this is the man who kicked John Terry in the face, so he should be getting his bronze statue outside the Emirates soon enough.
Picture the scene: The Chelsea-Arsenal match is tied at 0-0 as it rapidly approaches the final stages of the game. Deep into stoppage-time, Wenger decides to throw on Diaby, a substitution that many consider the end of his managerial career. Off comes Coquelin, a man who has pretty much single-handedly saved Arsenal's season. The Emirates is stunned into silence as the Forgotten One trudges onto the field to take his position for the upcoming Arsenal corner. Santi Cazorla whips it in and John Terry falls over trying to clear the ball. The ball falls to Cesc Fabregas on the edge of the 6-yard box, who, in an attempt to clear the ball, chips it out to Diaby. And no, I'm not upset over Cesc joining Chelsea. Not one bit. Nope, not at all. It's not like he was the prodigal son, or anything like that.
Anyway, the ball comes out to Diaby, who, standing 30 yards out, has only one thing on his mind. As Diaby takes a touch, everything slows down around him. He sees the spot where he's going to place the ball, and just lashes out at the ball. He thinks of the years of injuries he has suffered, all to make it to this one moment. He already knows he's scored before the ball hits the back of the net. As he goes to celebrate, he turns to Cesc and says, "Et tu Francesc?"
This is what hope does to you. It makes you dream. It's terrible, as you know your dreams are eventually going to get crushed. In real life, Fabregas is probably going to score a hattrick against the Gunners, burning all bridges. He will go on to win the title with Chelsea, something he was never able to do with Arsenal. Arsenal will of course end up 4th. Cue all "4. Arsenal" jokes. Great.
https://www.youtube.com/watch?v=x5hd-RJUHIg