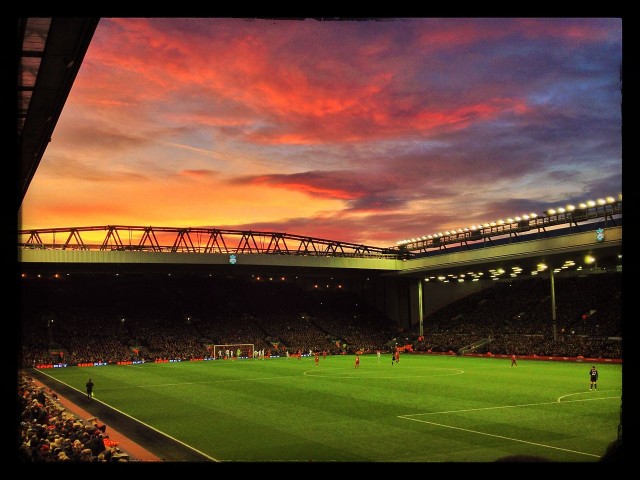 It has been a rough couple of days for Brendan Rodgers and Liverpool. Not only has the team pretty much lost the chance to make the top four in the Premier League, the ongoing contract negotiations for Raheem Sterling has caused some fans to begin turning against the youngster. They were able to get on track with a 1-0 win over Blackburn in the FA Cup. The team will be looking to get some momentum back as they take on a struggling Newcastle side in Anfield on Monday.
Against Blackburn, Rodgers decided to change the team's formation from the 3-4-3 to a more traditional 4-3-3. Even though the team won, the attack still felt lacking and uncreative. Rodgers could stick to the 4-3-3 but he possibly could return to the formation that sparked the tremendous run the team had from January to March.
Goalkeeper
Simon Mignolet kept the team in the game with some terrific saves during the beginning of the second half. There were a couple of times where he struggled to communicate with his defenders but that should be less of an issue this week. He will be encouraged by the fact that Newcastle has only scored 2 goals in their last 5 matches.
Center Backs
The defense has really struggled the past few matches but Emre Can, Kolo Toure, and Dejan Lovren should be able to handle the Newcastle offense. While these three players aren't the quickest, they read the game well and should be able to prevent themselves from committing any fatal mistakes.
The defense has been depleted badly, Mamadou Sakho just suffered a hamstring injury that will also keep him out of the next FA Cup match but Martin Skrtel will be back after serving his three match suspension.
Right Wing Back
Adam Lallana still has not established himself in the lineup and he could get an opportunity to do just that on Monday. He has had an up and down start to his Liverpool career but he is an intelligent player who knows his role on the team.
He should benefit by being on the weaker side of the Newcastle formation but he should still remember to fulfill his defensive duties, especially with the more vulnerable back-line.
Center Midfield
Even though Lucas Leiva is healthy, the chemistry that Jordan Henderson and Joe Allen have developed works well within the team. They are extremely energetic and offer a great balance of offense and defense.
Against Blackburn, Henderson provided the assist for Coutinho's goal while Allen got into the game with some runs from midfield. Rodgers could always turn to Lucas if he decides that the team needs toughness and some added defense.
Left Wing Back
Alberto Moreno did not impress again against Blackburn and Rodgers' patience could be running out.
The Spanish player will have to be at his best since he will be going up against one of Newcastle's best offensive players in Remy Cabella. Moreno will also have to deal with Daryl Janmaat, who leads the team in assists with 6.
Forwards
The front-line of Raheem Sterling, Daniel Sturridge and Philippe Coutinho struggled to make an impact and when they had an opportunity to do just that, they often made a mistake.
Coutinho was able to save the team with a late goal but they really should have done better against a Championship side. They will be looking forward to playing against Newcastle, they are in a three-way tie with Leicester and Burnley for the second most goals allowed in the Premier League.
(3-5-2)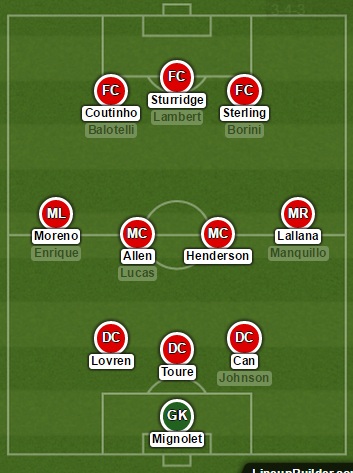 Via – Lineup Builder