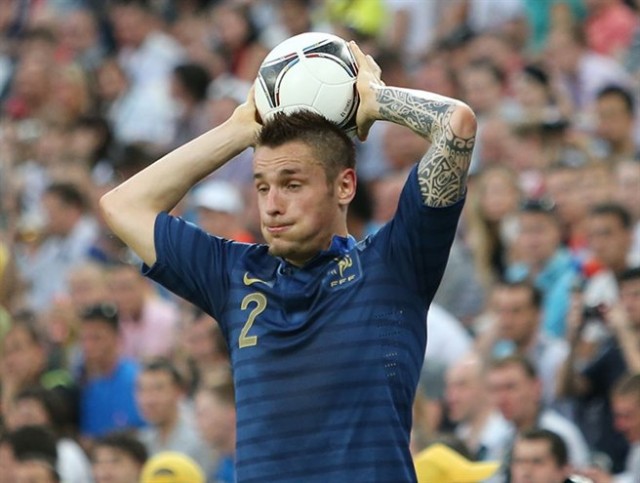 Arsenal face Burnley away Saturday as the Premier League starts winding down to the tenser stage of the season. Arsenal are currently riding a wave of good form, in fact they are the most in form team in the Premier League having won 7 matches in a row. Arsenal's performance and win against Liverpool was one of their most convincing of the season and Arsenal will want to continue this ride of good form.
In his pre-match comments, Arsene Wenger stated that this form is down to new found team cohesion, something that they lacked in the beginning of the year due to several key players missing out for months at a time. Now the core of the squad is back together and key players such as Mesut Özil, Alexis, and Olivier Giroud are playing well and other players such as Francis Coquelin, Nacho Monreal, and Hector Bellerin have been surprises and important contributors.
Wenger also touched on the health of four players. All four of Jack Wilshere, Mikel Arteta, Abou Diaby, and Mathieu Debuchy are healthy and in contention for the squad this weekend. Out of the four, Debuchy is the most likely to start considering the youth of his replacement. Mikel Arteta and Jack Wilshere are likely to find a place on the bench at the most, considering how well the players in front of them are playing.
It's hard to envision Diaby making the bench this weekend but depending on how Wenger decides to set up his squad next weekend in the FA Cup semi-final, Diaby could find a place on the bench then.
This should be a fairly routine match for Arsenal; although they will have to be sharp and ready considering Burnley beat Manchester City a couple weeks ago. Considering Arsenal's current form as a team, the form of individual players, and their tendency to end the season strong and in peak strength, Arsenal should get a win with a solid display.
Here is Arsenal's probable starting lineup:
Goalkeeper – Ospina
Performed well enough against Liverpool although his inability kick to kick the ball past the half way line again was worrisome. He hasn't performed poorly and is a fine keeper, but surely Arsenal can do better.
Right Back – Debuchy
Bellerin has been outstanding and it's hard to move him out of the first team, but Debuchy is the experienced player and is likely the player Wenger will want to close out the season with. I'm not sure I agree with the manger though.
In his pre-game comments Wenger noted that Debuchy is fit but "lacks a bit of a competitive edge" indicating that Debuchy will get his chance to get a competitive edge in this match.
Center Backs – Mertesacker & Gabriel
When Gabriel replaced Laurent Koscielny in the heart of Arsenal's defense against Liverpool shortly after the start of the second half, there was no discernable difference in the back-four's performance.
With Koscielny dealing with a slight thigh problem, it's unlikely he will be pushed, aand risk jeopardizing his ability to finish the season healthy.
Left Back – Monreal
He has been one of the back four's most consistent and surprising performers of the year. He looks un-droppable at the moment and Arsenal have really good competition at left back with Kieran Gibbs backing up Monreal.
Defensive Mid – Coquelin
Arteta's return from injury is no reason for Coquelin to be dropped. It's more likely we see these two playing together at some point in the next two months rather than in place of each other.
Coquelin for his part has been rightfully praised and put in another excellent performance against Liverpool.
Central Mid – Cazorla
Like Arteta, the return of Wilshere is no reason to believe that Santi Cazorla will be dropped. In fact Wilshere will have to get ahead of Aaron Ramsey as well, who finds himself just outside the starting eleven in spite of his good form.
Cazorla has shown that he can adapt and has shown excellent form in a deeper role for Arsenal. This is a good move for his career, considering his age (30) as pulling the strings from a deeper role could prolong his Arsenal career. This is easily the best form he has shown for Arsenal since his first season with the club.
Attacking Mid – Özil
It will be interesting to see how Burnley decides to play Özil. They won't want to give him too much space, which would allow him to add on to his 25 created goal scoring opportunities since January. However if they play him too physical and too tight, he could use his deft touches and flicks to escape pressure and take advantage of space given up to close him down.
Arsenal legend, Robert Pires praised Özil this week, claiming Özil is one of the best Bobby has every trained with. That says a lot considering Bobby trained with Thierry Henry, Patrick Vieira, and Dennis Bergkamp for six seasons.
Özil's scored free kick was one of the best taken set pieces by an Arsenal player for a couple seasons (second to Santi Cazorla's in the FA Cup final).
Wide Right – Welbeck
One of the most surprising things that we saw last weekend was Danny Welbeck come on for Ramsey, instead of Theo Walcott. Welbeck had to withdraw from the England squad due to a slight tweak to his knee and was considered a doubt for the Liverpool match. The fact that Wenger elected to give a possibly injured Welbeck time over a, as far as we know, more healthy Walcott, is concerning for Walcott but maybe more encouraging for Welbeck.
Welbeck looked dangerous when he come, giving Emre Can a difficult time while marauding down the left flank, that frustration showed when Can was sent off for a lazy and cheap hack.Welbeck could have scored one and created another, both signs of what an excellent player he is but also where he can still improve.
Wide Left – Alexis
Alexis put in a wonderful performance against Liverpool, scoring a sublime goal that instantly reminded me of this Thierry Henry wonder. Alexis looked as if the weeks rest he received after his match for Chile against Brazil, did him good as there was little sign of fatigue. This was an encouraging performance from the Chilean, one he could build off of to end the season the way he started it.
Striker – Giroud
What is there to say about Arsenal's prolific striker? He has the second best goals to game ratio in the Premier League (tied with Harry Kane), has scored 17 goals in the last 22 matches, and is arguably the most in form striker in the Premier League having scored 9 goals in the last 10 matches.
Arsenal's schedule is well laid out for rest of the season (they only have one mid-week game left this year) and it's hard to imagine Wenger rotated the striker position to much considering Giroud's form.
(4-5-1)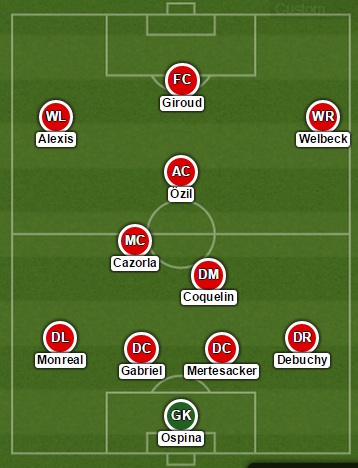 Via – Lineup Builder