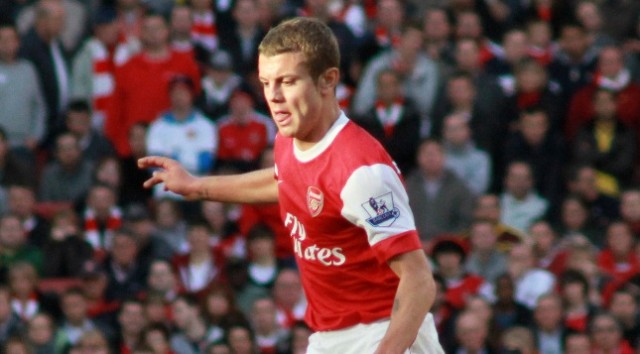 Jack Wilshere completed his first 90-minute run out for the Arsenal Under-21 side since injuring his ankle in 2-1 loss to Manchester United on November 22nd. Arsenal beat Stoke City Under-21 4-1, with Wilshere and Abou Diaby, who completed 70 minutes, playing influential roles. Serge Gnabry and Mikel Arteta also featured in the match with Gnabry playing the full match as well.
The young Englishman has been hampered by injuries season and never really got going. He has had one standout performance this season, during Arsenal 2-2 draw with Manchester City, but has otherwise failed to influence games as much as he would like.
Speaking after the game, Wilshere made himself available to Le Boss and spoke of his excitement for the rest of the season, while feeling frustrated that his injury cost him time.
"I feel like I'm ready to play some part. When you're injured you look at your comeback date and the games around that time.
"The one that stands out is the FA Cup semi-final but even before that we've got big games and we've got to go to Man United as well so there's a chance to play this season."
Wilshere was quick to acknowledge that you can't rush into things in the Premier League, and form won't come to him immediately.
"You can train as much as you like but you can't get that match fitness unless you play.
"In the Premier League you know how quick it is so you have to get back to that speed."
Wilshere's return to the first team is welcome as it will provide depth to a slightly stretched central midfield. Arsenal have not suffered in Wilshere's absence due to the return of an excellent Mesut Özil and Santi Cazorla's continued supremacy in a deep lying role.
It's difficult to envision Wilshere staking a claim for a starting spot, especially at this stage of the season, but he could provide some late game relief in certain situations and get on odd one or two starts.
Out of the remaining fixtures, it wouldn't be surprising to see Wilshere play a significant role against Reading on April 18th in the FA Cup Semi-Final, something Wilshere thinks as well based on his comments. Arsenal won't take this match lightly but starting a player of Wilshere's caliber isn't taking a match lightly for that matter. The other fixture Wilshere could start in would be Arsenal's midweek meeting with Sunderland on May 20th, for rotational purposes.
Either way Wilshere has a mountain to climb if he wants to make a meaningful and significant contribution this season. Coming back from a 5 month lay-off is no easy feat, especially at this stage of the season where Arsenal are trying to close out the season in peak form with not much time left.
https://www.youtube.com/watch?v=hpeUNC81rx0
Quick Notes:
Mathieu Debuchy's absence from this reserve match is notable considering he played in Arsenal Under-21's last match last week against Brentford. His absence is an indication that he is fit and is likely to either start or feature against Burnley Saturday.
Diaby's ability to play more than 45 minutes is encouraging, and his influence on the game was apparently even more impressive. From reports, it sounds like he was more influential than Arteta, creating a number of chances and providing energy in midfield with incisive runs. Maybe a new contract isn't out of the question as long as it is structured in beneficial way for the club and suitable to Diaby.