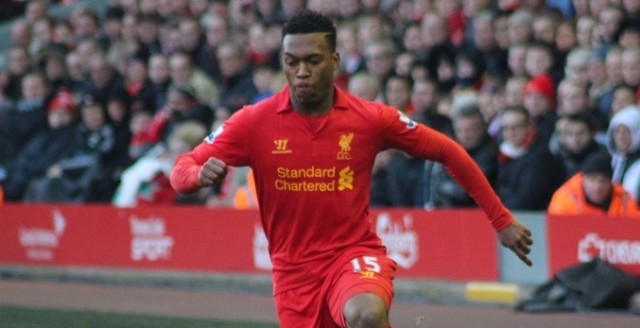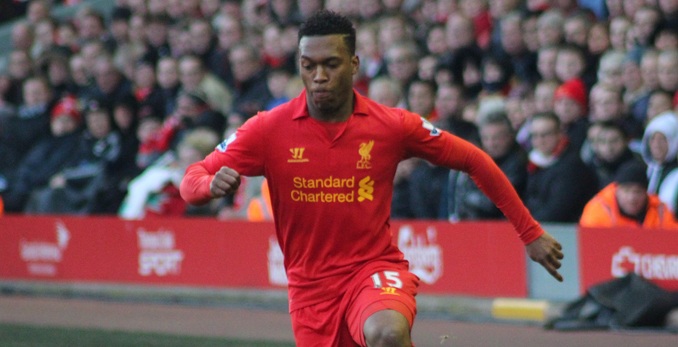 The 4-1 loss to Arsenal on Saturday was the lowest point in Brendan Rodgers' and Liverpool's season. Not only is it a second straight loss after a brilliant run of form throughout most of March, it also effectively ends the team's pursuit of a 4th place finish and a Champions League spot.
However, they can still get some silverware this season by winning the FA Cup. To move on in the competition they will have to beat a feisty Blackburn side in a rematch since the first match ended 0-0. The team should be motivated to win this competition since it will make the season somewhat successful, but more importantly, it will be the dream finish to Steven Gerrard's Liverpool career.
Goalkeeper
Simon Mignolet should have done better to save Mesut Ozil's free-kick but was solid the rest of the match. Against Blackburn, he will have to pay attention to where Jordan Rhodes and Rudy Gestede, they lead their team with 17 and 14 goals respectively.  
Center Backs
Kolo Toure was terrible against Arsenal but will likely start once again because of the suspensions of both Emre Can and Martin Skrtel. Dejan Lovren and Mamadou Sakho will have to step-up if Toure struggles once again, all three are susceptible to the terrible mistake.
Since Blackburn fields 2 strikers, the three defenders will have to work together to shut the pair down while also making sure that the midfielders are also accounted for.
Right Wing Back
Adam Lallana may be moved back out-wide to accommodate the presence of Sturridge in the lineup. He should be able to play well against the two wide players that Blackburn will field and he will be motivated since he has not been a consistent starter in recent matches.
Center Midfield
Rodgers could return to the strong midfield pairing of Jordan Henderson and Joe Allen after Allen and Lucas Leiva struggled in the last match. This pair offers a good balance of offense and defense and they can cover more of the field. Henderson is able to influence the match a lot more when he is playing in the middle and he is also able to lead the team more effectively.
Left Wing Back
Lazar Markovic's energy is always an asset but he wasn't able to put that to good use against the Gunners. Since Alberto Moreno has struggled the past few matches, Markovic may be given another start. Hopefully, he will play much better this Wednesday and he will have to pay attention defensively since Alex Baptiste and Tom Cairney both have 3 goals this season.
Forwards
The front line has really had a dip in form these past few weeks and Raheem Sterling, Daniel Sturridge and Philippe Coutinho will be looking to mend that in this match. All three are capable of scoring on their own but they need to work together if they really want to lead the Reds to a win.
Sterling will have to focus on the match even though he is making headlines because of his contract negotiations. Sturridge has been inconsistent this season but he has to prove to everyone that he is capable of scoring on his own without Luis Suarez. Lastly, Coutinho has come back down to earth after his brilliant run of form the past month, he is the x-factor on the team, when he is on his game, the team plays much better.
(3-5-2)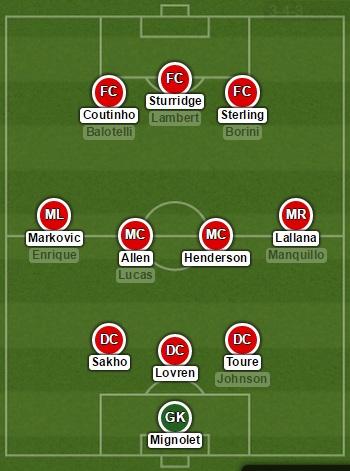 Via – Lineup Builder