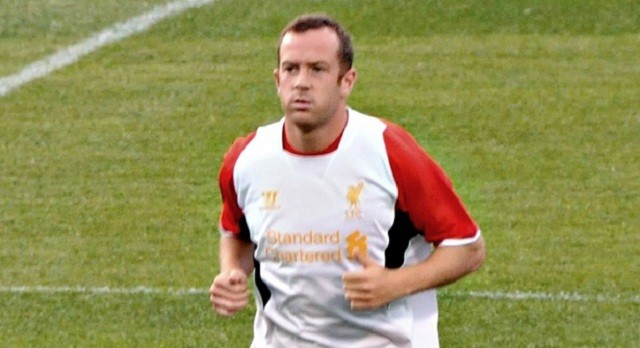 1. Sanchez, Rooney, and…Charlie Adam!?
On the same weekend where Ronaldo shook off the rust and netted 5 in a humiliating defeat of La Liga relegation candidates Granada, the EPL produced a a bevy of breath-taking finishes from all around the country.
Alexis Sanchez scored a screamer in Arsenal's commanding 4-1 victory over Liverpool, Wayne Rooney smashed the ball into the upper-90 with a sweeping leg kick following an impressive first touch, Jermain Defoe won the Tyne-Wear Derby for Sunderland after unleashing a peach of a left-footed volley, and Bobby Zamora executed a deft chip with the outside of his left boot that still has QPR fans purring.
Each goal would have been a worthwhile candidate for "Goal of the Month," but there's no doubting that the "Goal of the Season" was scored on the same weekend.
Charlie Adam beat Chelsea 'keeper Thibaut Courtois with a swerving 66-yard belter from his own half of the field. It was the type of goal that many dream of but few actually score — the type of skill that even an opposing manager as cynical as Jose Mourinho can appreciate.
"It was a fantastic goal, every super player in the world would like to score a goal like that," Jose Mourinho said in his praise of Adam's effort. "Diego Maradona to Lionel Messi to all these brilliant players."
The result (Chelsea ended up defeating Stoke City 2-1) might be forgotten in a year's time, but Adam's strike will remain as perhaps one of the greatest goals in EPL history.
On a lesser note, Mourinho also appeared to level some criticism at Courtois for being caught so far off of his line.
"…when my goalkeeper plays in the limit of the box he has to read the game and know the quality of the opponent. Normally he would anticipate a shot like that from the moment we lost the ball, but it's a great goal."
There is no doubting Courtois's greatness – his reputation as one of Europe's best will only enhance the goal's legacy – but it seems that the young Belgian still has things to work on before catching up with the likes of Manuel Neuer and David de Gea.
2. City's run of futility continues
On paper, Manchester City's Monday night fixture against Crystal Palace at Selhurst Park looked like a tricky one.
Sure enough, The Citizens might have controlled possession for long stretches, but they were outdone by a spirited Eagles side in a 2-1 loss.
Glenn Murray's opener was against the run of play in the first half, but it was Jason Puncheon's spectacular curling free kick that ultimately put City to the sword.
City has only accumulated 6 points in its last 5 matches and has now fallen to 4th place behind neighbors Manchester United ahead of the Manchester derby next weekend. It's almost hard to believe that this was the same side that was level on points with Chelsea at the turn of the year.
Manchester City's leaky defense looked generally solid for the duration of the match – a minor consolation given how shaky Vincent Kompany has been all year – but their slow build-up play and subsequent inability to create enough scoring chances once again plagued the team versus Palace.
There are a lot of questions to be asked on the blue side of Manchester following another calamitous result against a middling side – why are City's big-name stars underperforming this season? Why do their attackers lack ideas in the final third? Above all, is Pellegrini still the right man for the job?
City isn't in any serious danger of missing out on the Champions League, but speculation over its future looms large. After virtually no major transfer activity last season, City will be in need of a major overhaul in order to keep pace with the rest of the pack.
3. Arsenal rolls Liverpool and extends streak
Arsene Wenger's men thumped Liverpool at the Emirates on Saturday by a resounding 4-1 scoreline.
The impressive win extends Arsenal's winning streak to 7 and moves the Gooners up to 2nd in the table with 7 matches left to play.
Mesut Ozil, Olivier Giroud, Hector Bellerin, and Alexis Sanchez all bulged the back of the net in a quintessential Arsenal showing of panache and offensive prowess.
Arsenal has been playing so well lately that it's worth asking the question: if they would have been better at the start of the season, could they be challenging Chelsea for the title?
Arsenal's defense is stingier, their players seem to possess more mental fortitude, and they possess a real difference-maker in Alexis Sanchez. Not to mention that many of their top players (Sanchez, Santi Cazorla, Olivier Giroud, Mesut Ozil) are performing at a high level.
I'm not saying that Arsenal has really changed – their lackluster start is always accompanied by a late season flourish, and no team besides Chelsea has been consistently good all year – but they might finally be putting something together after so many years of finishing in the top 4 but rarely troubling to compete for the league.
Next season will be the real test.