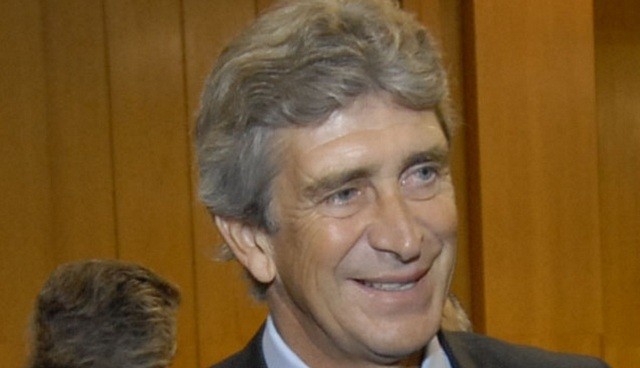 The rest of the season is about damage limitation for Manchester City. The title is nine points in the distance, on par with the number of games as runaway leaders Chelsea have played. With faltering form down the stretch, last season's champions are currently in fourth place with a chance to return to the second spot with a victory over Crystal Palace.
Taking a more positive view of matters, City are a lock for a Champions League spot with Liverpool and Tottenham both seven points back having played a game more. City will have to be up for the task against a Crystal Palace side that is comfortably above the relegation zone.
Goalkeeper
Joe Hart will start yet another game in goal. Nothing unexpected here as Hart has been in good form. He's come a long way from being dropped from the squad all that time ago.
Defenders
Crystal Palace are asserting themselves as a mid table side, so the City defenders must be up to the task. Kompany, despite a recent run of poor form by his standards will be in and captain the side. Zabaleta is generally in the side whenever he's not suspended or needing rest. He's been instrumental in City's success in recent years.
This is the perfect time for Mangala to get more time in the side. Hopes are high for the young defender, and with the title out of reach and a Champions League spot all but secured, there isn't anything to lose. Pellegrini would be wise to start Clichy on the left side to add pace and a high work rate.
Midfielders
It may seem a bit unconventional, but Lampard holding and Milner attacking in the center of the park may be the perfect combination to get the most out of Lampard's remaining time and keep Milner happy. Jesus Navas and David Silva on the flanks would provide a nice complement to the sturdy center.
Having Yaya Toure on the bench to come on as a sub may seem unfair, but the Ivorian has been out of form. Granted, he's still the most likely to start of any midfielder.
Attack
Sergio Aguero is a world class player that hovers on the edge of being overworked as evidenced by his injury record. However, there isn't a better player City could field with their current squad, so the likelihood he starts is high.
Whether Dzeko or Bony gets the nod is a tossup. The edge should go to Bony, because there is a considerable amount of room to develop and become acclimated to playing for a top side.
(4-5-1)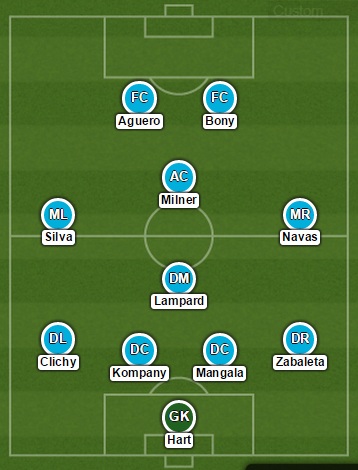 Via – Lineup Builder