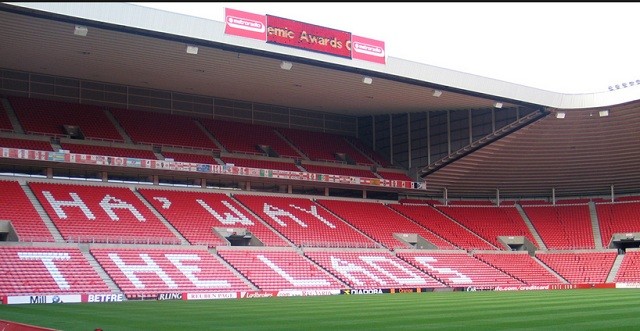 Unlike common conception, there will be plenty to play for Sunday afternoon at the Stadium of Light when Newcastle United faces off against Sunderland in the Wear-Tyne derby. Sunderland sit tantalizingly close to the relegation zone, and Newcastle will be keen to send them down while they bolster their position in the middle of the table.
Newcastle though, will have to fight through injury as their team has been decimated as of late. Losing arguably their two best players to suspension won't help their cause either.
John Carver has his team battling to try and pop into the top 10 of the table, but for mentioned troubles have hindered that quest. Now, as the season is winding to an end, Carver will have a new plan for his team, stay out of trouble. Ten points ahead of the relegation zone and currently in 13th place, there isn't much to be done either way with the rest of the campaign. Carver will undoubtedly want to end the season on a positive, but also not want to risk any key players to further injury.
Sunderland though, have plans of their own. Newly appointed manager Dick Advocaat is fearful his team will continue to drop points, which would soon see them in the last three. With only four premier league wins this season, Advocaat will need to push his squad to beat Newcastle for a second time this season, a feat that is obviously achievable. With such implications on the line, the Sunday afternoon clash should be chalked full of excitement.
Goalkeeper – Tim Krul
One of the lone shining stars in Newcastle's season, Dutchman Tim Krul will look for another iconic performance between the sticks. With captain and longtime centre back Fabricio Coloccini still serving a suspension and right back Haidara out for the season, Krul will be even more exposed than normal against the likes of Jermaine Defoe.
Centre Backs – Mike Williamson and Daryl Janmaat
Williamson has been a liability since he has been thrown on a little while ago due to all the injuries, and is still looking to settle down his play. Life was definitely easier with experienced Coloccini next to him, but now with converted right back Janmaat playing along his side, Williamson will need a strong showing if Newcastle have any chance to win.
Full Backs – Jack Colback and Ryan Taylor
Colback has been very impressive in his deeper midfield role this season with Newcastle, which has been a pleasant surprise. With Massaimo Haidara needing knee surjury that will see him miss the rest of the season, Newcastle has fallen short of backups. Colback will convert to full back in the mean time, but will look to get forward when he still can. Taylor has had to fill gaps all over the defense, and this time at right back with Janmaat having to slide over to the center.
Defensive Midfield – Mehdi Abeid and Vernon Anita
John Carver will have Abeid back at his expense after recovering from a thigh issue that has seen him miss recent time. With Colback forced backwards, the Magpies will be relieved to have Abeid back to help bolster the midfield alongside Vernon Anita, who has been playing well as of late. Moussa Sissoko could likely play here, although I believe he will be seen higher up the pitch on Sunday.
Attacking Midfield – Sammy Ameobi, Remy Cabella, and Moussa Sissoko
Sammy Ameobi has shown very positive signs of being a good left winger for Newcastle in the wake of his brother departing for Crystal Palace. As mentioned earlier, Sissoko should see himself in the number 10 spot this weekend, contributing to the attack while others are injured. More of a deeper lying player, Sissoko, like others, will have to adapt to see this game through with three points. Cabella is almost a guaranteed start when healthy, as his pace and technique provides an instant spark to the attack.
Forward – Ayoze Perez
After Cisse's spitting feud with Manchester United, Ayoze Perez has filled the forward role nicely in a different way. Cisse is a true forward who with size and power can control the front line. Perez is a quicker more technical player who will make runs that break opposing defense. Perez has had an excellent season thus far and wouldn't surprise if he caught the attention of bigger clubs in the summer.
(4-5-1)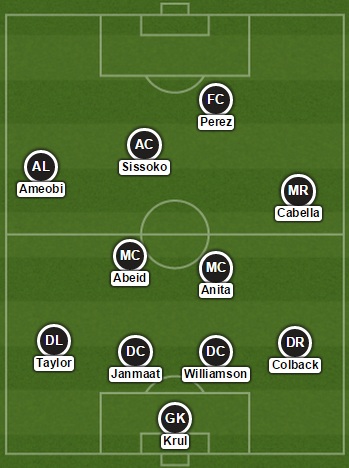 Via – Lineup Builder